'Fuller House' Gets Festive for Season 2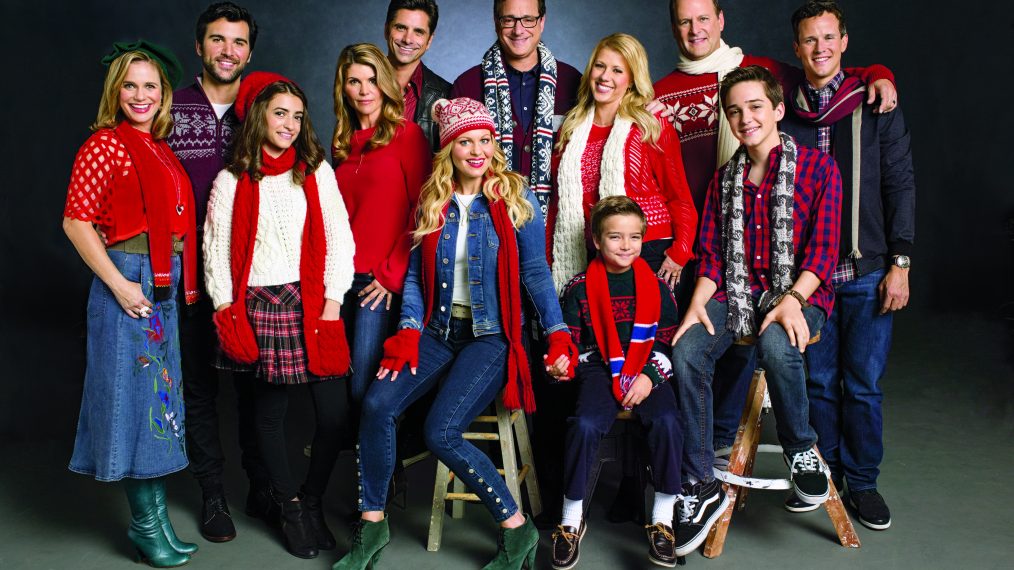 Elias Harger, who plays Max—middle son of Candace Cameron Bure's widowed veterinarian, D.J.—on Netflix's Full House spinoff, Fuller House, is 9 years old. He weighs less than 80 pounds. He dances between takes. He looks super cute clad in red plaid pajamas for the show's new Yuletide episode. But don't let that sweetness fool you. Harger and the Fuller House gang may be all big toothy grins and geeky Christmas sweaters. And they may hug on screen…a lot. But they are fighting tough—and winning.
The classic redux drew enough buzz in Season 1 to joust with Game of Thrones as one of TV's most popular shows among viewers 18 to 49. (Surprised? More on that later.) Now the sitcom is back with TV's version of heavy artillery: a 13-episode season with four holiday-themed installments, guest stars galore and plenty of romance—setting up at least two surprising couples. Plus, there are several new characters and the first reunion of the Full and Fuller House casts (minus originals Mary-Kate and Ashley Olsen) since the spinoff's pilot. As Max would say, "Holy Chalupas!" The group hugs can be seen from outer space.
RELATED: Fuller House: The Trailer for Season 2 Is Full of Holiday Cheer (VIDEO)
Fuller House's backstory is so unprecedented and heartwarming, it's no wonder they are celebrating. Flashback to Full House's 1995 finale: Creator Jeff Franklin had left the hit show—about widower Danny Tanner (Bob Saget) raising his three daughters, D.J., Stephanie (Jodie Sweetin) and Michelle (the Olsens), with help from his brother-in-law Jesse (John Stamos) and pal Joey (Dave Coulier)—three seasons earlier. The onetime centerpiece of ABC's Friday-night "TGIF" comedy block was now airing on Tuesdays and pulling in a fraction of its former audience. When the ax fell, it was too late to film a real goodbye, so Season 8's finale, in which Michelle loses her memory, stood as the series' strange bow. "It was about an 8-year-old with amnesia," Franklin says. "I don't know how many 8-year-olds have amnesia in the United States, but my guess is zero. It was horrible! I wanted to give it a proper end."
In the meantime, Nick at Nite acquired the rights to the show in 2003, and by 2012 was broadcasting 32 episodes a week—and with good reason: People were watching. And often in four-hour blocks. They were bingeing! Repeats sometimes attracted bigger audiences than new cable—and occasionally network—series on at the same time. And don't go pinning this success on nostalgia. Full House was routinely a top-rated primetime program among children who were way too young to recognize D.J.'s Paula Abdul poster.
"People would come up to me and yell, 'Uncle Jesse!'" Stamos says. "I'd ask them, 'What do you like about the show so much? What is it? What am I missing?'" He also admits to a complicated relationship with the series, which he was still working out while starring on ER in 2007, when Franklin approached him about spearheading a Full House reboot. "For years it was something I wanted to move on from. I didn't want to be called Uncle Jesse," he says. "But then I started to feel that, if I'm always going to be linked to the show, let's see what else can be done with it, like a movie or a spinoff."
Luckily, the cast—except for the Olsens—had stayed close through the years. Franklin and Stamos (who is a producer on Fuller House) shopped their reboot around Hollywood twice over the next decade. Even Nick at Nite rejected them. Then Netflix's research into family viewing revealed that the only shows parents and children enjoyed together were contests and "light" reality series (think: Say Yes to the Dress). "There wasn't really any new scripted programming for multigeneration viewing," says Cindy Holland, VP of original content. A former Nickelodeon executive now at Netflix remembered Franklin and Stamos's pitch. When Stamos finally revealed on Jimmy Kimmel Live! in April 2015 that Fuller House was happening, it instantly began trending on Twitter. That December, the first trailer racked up 5.5 million views on YouTube in 24 hours.
RELATED: Fuller House Gets Renewed for Season 2
The show premiered in February 2016, and critics described it with the type of damning language usually reserved for war criminals. Everything they hated—the callbacks, the catchphrases, the schmaltz—viewers ate up. Netflix doesn't release ratings info, but according to Symphony Advanced Media, which claims to track the streaming service's viewer numbers, Fuller House episodes averaged 14.4 million viewers among adults 18 to 49 years old during the first 35 days the series was available, which would land it in the company of shows like The Walking Dead. Further proof: The day Season 1 premiered, broadcast-TV usage levels dropped 3 percent from the previous week.
Viewers clearly connected with the recently widowed single mom D.J., who moved into her father's San Francisco home with sister Stephanie, crazy childhood best friend Kimmy Gibbler (Andrea Barber) and Kimmy's daughter, Ramona (Soni Nicole Bringas).
This season, there's room for more. The girls get a surprise roommate, and actors Juan Pablo Di Pace (Kimmy's ex-husband/current fiancé, Fernando), John Brotherton (D.J.'s business partner and love interest, Matt), Scott Weinger (her high school beau and other love interest, Steve) and Ashley Liao (Ramona's best friend, Lola) have been upped to series regulars. Stephanie starts dating Kimmy's brother, Jimmy. ("I was so excited," says Barber. "I'd always wanted to meet another member of that crazy family.") And the D.J./Steve/Matt love triangle turns into a pentagon when both men meet other women: Matt, a yoga instructor, and Steve, a woman who looks, dresses and acts like D.J. Her name is even C.J.! "I love this storyline," says Bure. "The audience has watched Steve and D.J. interact since high school, which tugs at the heart." Then you have Matt, who's a really successful, hot, fresh new guy."
Stephanie's childhood friend, bad girl Gia (Marla Sokoloff), also returns. Dad Danny, uncles Jesse and Joey and Jesse's wife, Rebecca (Lori Loughlin), swing by too. All this, says Sweetin, is the secret to the series' success—it's expanded the sense of family. "The Tanners feel real because they connect with everybody: single parents, same-sex parents and extended families. You just don't have that with other TV shows." Hug, anyone?
Fuller House, Season Premiere, Friday, Dec. 9, Netflix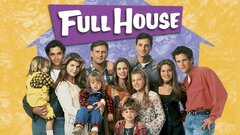 Powered by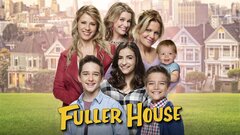 Powered by