'This Is Us': Kate & Toby Seal Their Fate in 'The Hill' (RECAP)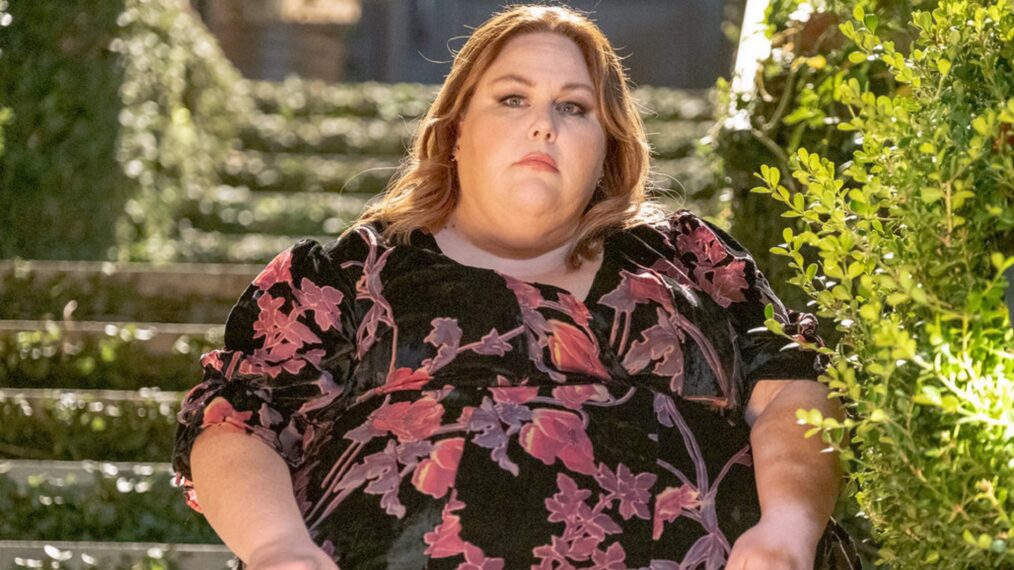 The Hill
Season 6 • Episode 9
[Warning: The below contains MAJOR spoilers for Season 6, Episode 9 of This Is Us, "The Hill."]
This Is Us continues its final in-season trilogy of the series as Kate (Chrissy Metz) takes center stage in "The Hill."
The latest episode examines what happens when she leaves the Pearson family cabin following a tense Thanksgiving that revealed bigger fractures in her and Toby's (Chris Sullivan) marriage, along with health developments for Rebecca (Mandy Moore).
Below, we're breaking everything down from the Kate-centric installment ranging from a pool flashback to the present day.
No Letting Go at the Pool
In the past, during the Greenview Pool's first day open, the Pearsons have varying experiences. While Rebecca tries coaxing her daughter into the water, Kevin's (Kaz Womack) near-drowning on the other end of the pool, pulls her away from Kate (Isabella Rose Landau). In the meantime, Jack takes over watching Kate. As Jack begs her to get into the water, she refuses until he promises to hold her. When he goes to let go she throws a fit and he convinces Kate to let him help her float.
Holding her on the surface of the water, Jack attempts to remove his hands, but Kate won't let him. When Jack tells Kate she needs to believe in herself, she still won't let go. "Why would I?" Kate asks about letting go, proving to Jack that today isn't the day she'll make that leap.
Stuck in Pittsburgh
Flashing back to the post-Thanksgiving hangout the Big 3 are having at the now-abandoned Greenview Pool, the siblings go to exit the premises to find that the brick Kevin (Logan Shroyer) used to prop the door open has now been moved, leaving them locked in. Together, they search for an escape but can't seem to figure one out. As they walk and talk, Kate (Hannah Zeile) makes a comment about being stuck in Pittsburgh and how she needs a new life.
When Kevin and Randall (Niles Fitch) tell her to focus on the future and new dreams, she admits that she doesn't have any dreams and that she can't really picture her future. As sad as this admission is, Kevin and Randall have faith that she'll find something one day. As their evening carries on, the Big 3 believe they've found a way out, as Kevin and Randall lead the way by climbing up the fence, but Kate is reluctant. Giving it a try, she ends up falling and refuses to go any further, but it is one step further than her past self. The question is, can she go all the way in the present?
Kate Climbs the Hill
Following her mother's revelatory Thanksgiving talk, Kate and Toby exit the holiday with a new outlook as Kate suggests a trip up to San Francisco so she can see what his life is like up there. Before they manage to meet in the Bay area, Kate goes about her weekly routine which consists of video chatting with Toby and the kids, taking walks with Jack where they wave to Gregory (Timothy Omundson), and making breakthroughs with her students.
At work, Kate puts together a retirement party for one of her colleagues and as they serve cake, Kate notably passes on a slice, opting for water instead. Meanwhile, on the eve of her trip with Toby, Kate and Madison (Caitlin Thompson) have a movie night where she brings up missing "Old Toby." When Madison asks what she means, Kate brings up that the new version of Toby isn't as goofy, wears nicer clothes, and likes fancy things. Madison tries telling Kate that the Old Toby is still in there, she'll just have to find it.
Before hitting the airport, Toby calls Kate to say he sadly won't be able to pick her up due to work, but will have a car waiting for her and that he'll meet her at the apartment in San Francisco. After hanging up the phone, she made a comment about how Old Toby would've gotten her, and suddenly an image of what Old Toby appears, somehow confirming her hypothesis.
When she arrives in San Francisco, Toby pours them champagne and she takes in the family photos and art hanging up in the sterile space. He shows off the views and tries wooing her with the city as they confess they've both missed each other a lot. When one thing leads to another, the couple winds up in bed.
In the afterglow, Kate asks about Netflix and chilling, but Toby excuses himself to make a work call that was delayed due to time differences. The disappointment on Kate's face is obvious and that's when Old Toby reappears. As the Old Toby ribs on his newer self, Kate begins to feel saddened by how different he has become. When Old Toby apologizes for making her upset, he adds that he misses hearing her laugh.
The next morning, Toby brings Kate some coffee in bed and tells her about his itinerary for the day, which is chock full of adventures. But Kate just wants a "Katoby" day where they'll go wherever the wind blows them. Taking a cue from her, Toby leads the way as they go sightseeing, and video chat with their babies. When Toby brings her to a house, Kate thinks it's another sight to behold, but it's a house that he's scoped out for a possible family move.
Kate is shell-shocked and once they exit the showing, she tells him that she's overwhelmed because this trip was about dipping her toes, not changing her life completely. Toby tries saying that they have time to decide, noting that the sellers aren't accepting offers until the next day, and he points out that there's space for Rebecca and Miguel (Jon Huertas).
Later on, Toby apologizes for ambushing Kate and they get ready to head to his boss's cocktail party, which isn't far from his apartment, but he orders a car because it's all uphill and he doesn't want to burden Kate. Upon entering the home of Toby's boss, they encounter several of Toby's coworkers and they all gush about how nice it is to meet Kate. When she goes to the dessert table, Toby's boss mentions to Kate how grateful he is that Toby didn't accept a job offer back in LA.
Needless to say, Kate's metaphorical legs are knocked out from under her with this comment, realizing that Toby has been lying to her about things. When she goes outside to compose herself, Old Toby comforts her and when she finally has the resolve to go back inside, she tells Toby it's time to leave.
At the apartment, the pair get into a big fight, she asks about the LA job offer which he calls a joke, and they debate the pros and cons of LA versus San Francisco. He mentions the importance of making money and how this job will allow him to give baby Jack everything he needs, as opposed to Kate's assistant teacher job. Ultimately, she points out that Toby is happy, even with the back and forth travel, he enjoys his life. Kate says she misses the Old Toby, and Toby points out that that version of him was miserable and not far off from killing himself if a heart attack didn't, which it almost did.
Kate tells Toby how he took away this emptiness inside of her, but the one thing making her sad now is their relationship. The next morning, Kate comes out into the kitchen to find coffee and Toby apologizes for not being upfront with her about the house and the job offer, nothing that his job in San Francisco does mean a lot to him. And so, Toby concludes that the only way their family will work is if they live together in San Francisco.
This unofficial ultimatum leads Kate out the door as she takes a moment to breathe and when she makes it to the sidewalk, she eyes the hill Toby wouldn't let her walk up before. Now, she scales the hill, proving to herself that she can accomplish anything she puts her mind to. And once she reaches the top, Kate calls Phillip (Chris Geere) to ask about the full-time position their retired coworker left empty. When he tells her it's still open, Kate says she wants to be considered, making a bold decision for her future life.
This Is Us, Season 6, Tuesdays, 9/8c, NBC
Powered by