'Cobra Kai' Creators Tease a 'Lot of Insanity' in Season 5, Future Plans for Series' End
Cobra Kai Season 5 is on the way. The YouTube-turned-Netflix series returns in 2022, although an official release date has not yet been announced. Ahead of its release, the Cobra Kai creators teased what fans can expect from the season, promising a completely unpredictable plot.
Cobra Kai Season 5 wrapped filming in December 2021. And co-creators Jon Hurwitz, Josh Heald, and Hayden Schlossberg shared details about it at the 2022 Producers Guild Awards on March 19, saying fans will never expect what's coming. They also teased possible cameos from "familiar faces."
"Season 4 everyone knew that we were heading toward a tournament — Season 5, no one knows where we are headed," Hurwitz told Deadline. "We do, because we already made it. There's a lot of insanity; if you're a fan of the franchise, maybe some familiar faces show up, maybe not; there's going to be a lot of karate."
Cobra Kai Season 4 ended with the much-anticipated tournament, where both Hawk (Jacob Bertrand) and Tory (Peyton List) won. But Tory only won because Terry Silver (Thomas Ian Griffith) cheated. Heald said the consequences of that will be seen in Season 5.
"The bad guys won in Season 4, so there's going to be some hell to pay, whether there's more hellfire or retribution," he said, adding the new episodes feature a "lot of people punching each other, kicking other, but the story is going to go in a new way that no one can possibly predict."
Another unpredictable aspect of the show is how long it will last. Schlossberg said the team knows how they're going to to end the Karate Kid series, but the road map for getting there is not yet clear.
"We have an end in mind," he said. "How many seasons it takes to get there, we don't know. We're enjoying making it so much."
Rest assured, they plan for several more seasons.
"If it gets tiring to us, we'll stop before that," Schlossberg added. "We have a few more seasons already planned out."
Cobra Kai also stars Ralph Macchio, William Zabka, Courtney Henggeler, Xolo Maridueña, Tanner Buchanan, Vanessa Rubio, Gianni Decenzo, Martin Kove, and Mary Mouser.
Cobra Kai, Seasons 1-4, Streaming Now, Netflix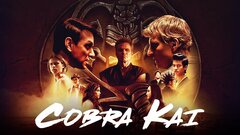 Powered by