Roush Review: New Romance on 'Bridgerton,' Same Old Gossip
Beware the romantic hero who declares, "Love shall have no place in my marriage." Those aren't fighting words, more like words to be eaten.
Not that anyone goes hungry in Bridgerton, an overstuffed smorgasbord of Regency period farce masquerading as a steamy love story. Based on Julia Quinn's novels, this purposefully over-the-top series from Shondaland was a pandemic-era hit. Though still gorgeously produced, admirable in its color-blind diversity and generally fun to watch, the show often feels like biting into fluffy cotton candy only to come away with a mouth full of cloying marzipan.
See Also
There's a lot on Penelope Featherington's plate as the actress previews challenges for her character.
And here's a peculiar truth about Bridgerton, dearest gentle reader. The wealthy, do-nothing Bridgertons tend to be the dullest people in any given ballroom. (That was clear enough in Season 1, when insipid Daphne Bridgerton was eventually swept off her feet by Simon, the dashing Duke of Hastings, who sadly is nowhere to be seen in Season 2, Regé-Jean Page having decided to cast his gaze elsewhere.) The focus in Season 2 now falls on Daphne's eldest brother, the pompous and arrogant and intermittently shirtless Viscount Anthony (Jonathan Bailey), who goes on and on about how marriage is a business and has no business interfering with his closed-off heart.
More fool him (and anyone who falls for that act), once he sets his eye on the social season's new "diamond," the demure Edwina (Charithra Chandran), an ingenue imported from India and groomed for the occasion. She yearns for declarations of love, but Anthony's throbbing heart (among other organs) is way more stimulated by Edwina's headstrong sister, Kate (the fiery Simone Ashley, this season's standout performer).
As if they were channeling Shakespeare's Benedick and Beatrice from Much Ado About Nothing (among other influences), Anthony and Kate bicker constantly, fueled by her fury over eavesdropping on his love-be-damned braggadocio. (I was in Kate's corner from the moment she announced her disdain for British tea.) Before long—although "long" is in the eye of the beholder of these stretched-out Netflix series—Anthony begins to realize he's at least as excited as he is aggravated by Kate's provocations. Plus, she rides a mean horse.
And that's just the half of it. Alas.
Many more subplots await the gentle viewer, most involving the unfortunate wretches of the neighboring Featherington estate. As widowed and nearly penniless Baroness Portia, Polly Walker presides over her grotesque brood of Featherington daughters with such transparently mercenary vulgarity I kept expecting them to break into character songs from Rodgers & Hammerstein's Cinderella. The sympathetic outlier in that house is wallflower Penelope (Nicola Coughlan), revealed at the end of Season 1 as the anonymous author of Lady Whistledown's infamous gossip dispatches (narrated by a droll Julie Andrews), a snarky sort of 19th-century blog that keeps all of the 'Ton on their toes.
The season's other dominant through-line, besides the Anthony-Kate-Edwina melodrama, is Penelope's desperate desire to keep her Whistledown identity a secret—especially from the vindictive Queen of England (a sly Golda Rosheuvel) and also her Bridgerton BFF Eloise (Claudia Jessie), the family's progressive upstart who becomes increasingly tiresome company.
And that's the real scandal of Bridgerton: Try as it might, it's no substitute for Jane Austen.
Bridgerton, Season Premiere, Friday, March 25, Netflix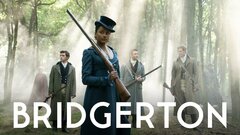 Powered by