'Bridgerton' Star Nicola Coughlan on 'Messy' Season 2 Secrets & Hope for Polin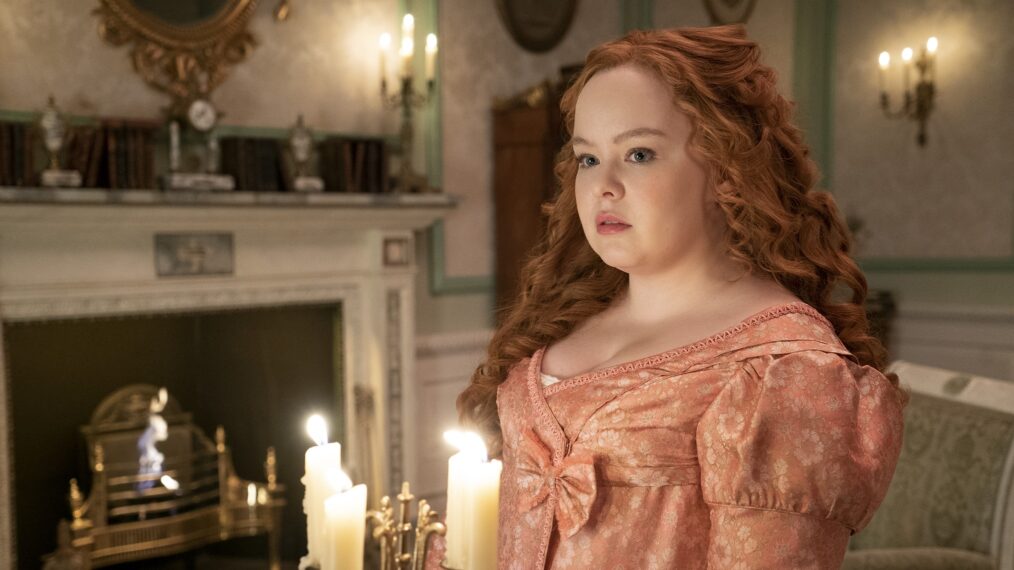 Dear readers, Lady Whistledown's latest scandal sheet is arriving soon and in the meantime, Bridgerton star Nicola Coughlan is serving up some morsels of Season 2 gossip to hold fans over.
Portraying Penelope Featherington in Netflix's adaptation of Julia Quinn's bestselling book series, Coughlan continues her role under the lead of showrunner Chris Van Dusen when the show premieres its sophomore season on March 25. As viewers of the show's hit first season will recall, Penelope's double life as the ton's most elusive and talked-about columnist, Lady Whistledown was unveiled, leaving us to wonder where the next social season will bring her.
Always on the fringes, Penelope will be forced further into the center of the ballroom with her best friend and newly-launched Eloise Bridgerton (Claudia Jessie), as the Regency-era drama kicks off the ton's next social season. The catch? Penelope's bestie is also dying to uncover the identity of her favorite writer, Lady Whistledown which will play a big role in Penelope's Season 2 story.
"Season 2 really lets you see all the little inner workings of how she's been getting away with it," Coughlan reveals. "I mean, for me, it was so much fun to get to do all of that and to play all the different sides of her — the businesswoman side or this sneaky side of the alter ego that she has for herself." One of those sides includes helping Eloise navigate the lavish balls and other events of the season while still maintaining her secret.
"It was funny because I was really excited for the times when Claudia would actually be at the balls so I'd have a buddy," recalls Coughlan before clarifying, "because those balls take like three days to film." While she says "it's a labor of love" to film the ball sequences, Coughlan adds, "I was very excited to have a friend there."
While it was a joy behind the scenes for Coughlan, it's anything but for Penelope, as she realizes the seriousness of her predicament in accordance with her booming writing business. "It was funny because the things that I had been used to doing at balls during Season 1, I couldn't do anymore. I was like, 'Oh, this is going to create a massive issue because I can't sneak off because we're attached to the hip.'"
That issue of not being able to sneak off forces Penelope to get creative. "I think seeing the inner workings of how Penelope operates as Whistledown lets you see how stressful and difficult it is to manage because, at the end of the day, she's still a young girl," Coughlan teases of her character's herculean task this season.
"She's very smart, but it's stressful for her to try and figure it out. Then I think with Eloise being there, that's her biggest challenge in operating at this time," Coughlan confirms. Even with all of this juggling, Penelope still thinks she can conquer it all. "She's creating difficulties for herself because she's become a little arrogant," notes Coughlan, "which is sort of understandable, in a way, because she's the most powerful woman in London and she can't tell anyone that."
"It's a really interesting juxtaposition of someone that's very shy but also thinks [she] can pull the puppet strings," adds the actress. Eloise's comments about Whistledown also sway Penelope's writing a bit this season. "She has a need for praise from Eloise because she is so smart and funny and she adores her so much," Coughlan shares and as a result, she teases, "it gets very messy."
Less messy this season is the continued connection between Penelope and her crush, Eloise's brother Colin Bridgerton (Luke Newton). "I really love the progression of their relationship," remarks Coughlan who acknowledges the fact that she's "a big 'Polin' shipper" herself. While she's rooting for this duo, Coughlan also adds, "I've always said Colin is the pick of the Bridgertons."
"He's very self-assured. He's not dark and troubled like Anthony (Jonathan Bailey). He's not finding his art like Benedict (Luke Thompson). He's just a really fun, sweet guy," Coughlan continues. "They've connected more through writing," she adds, "and that's probably where she's the most comfortable."
As to where things might lead for the pair, Coughlan remains mum, but shares that it is positive that Colin is getting to know her in a different way. "He's gotten to know that [writing] side, which is a huge part of her," Coughlan gushes.
Can she conceal that part of her long enough to continue her Lady Whistledown enterprise though? Tune into Bridgerton's latest chapter to find out.
Bridgerton, Season 2 Premiere, Friday, March 25, Netflix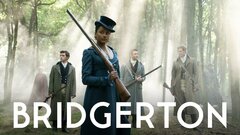 Powered by