'New Girl': Schmidt's Father Returns to Ruin Thanksgiving (VIDEO)
In this week of turkey slaughter and forced shows of gratitude, many folks are dreading the drama of family gatherings. Will your write-in vote for Harambe ruin the dinner convo? Did anyone think to invite Cousin Crackhead? Are the yams burnt…again?
RELATED: First Look! New Girl Goes to Brooklyn
Well if you think you're gonna have it bad this Thanksgiving, take some comfort in the mess that is Schmidt's cornucopia of crazy when his long-absent father (Peter Gallagher) returns for the holiday. In this exclusive clip from Tuesday night's New Girl episode, it's clear that "Papa" isn't in a good place—in fact, he's in the bathroom—and even the passive-aggressive attentions of his son (Max Greenfield) aren't enough to boost his mood. So cheers, gang. You may not have the worst Thanksgiving, after all!
New Girl, Tuesdays, 8/7c, Fox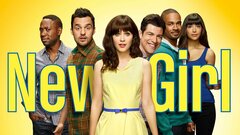 Powered by