'Outlander' Stars on Jamie's Loyalties, Woes for Fergus and Marsali & More
[Warning: The below contains MAJOR spoilers for Season 6, Episode 2 of Outlander, "Allegiance."]
Outlander's latest episode, "Allegiance," saw loyalties tested as Jamie (Sam Heughan) dealt with his first challenges as an Indian Agent for the region.
Torn between family and his knowledge of the future from Claire (Caitriona Balfe), Jamie debates over whether arming the Cherokee with weapons is the right thing or not. Meanwhile, the tensions in Marsali (Lauren Lyle) and Fergus' (César Domboy) marriage are further tested when she goes into labor. Below, the stars and executive producers break down some of the biggest revelations from Season 6's second installment, so beware of spoilers ahead.
Jamie's Allegiance to Young Ian
As viewers who tuned into the Season 6 premiere know, Jamie took on the Indian Agent job set forth by Major MacDonald (Robin Laing) and in doing so must communicate with the Cherokee about brewing war between the colonies and British. At first, Jamie is reluctant to pass along a request for weapons because he doesn't know if it will put them on the right side of history, but Ian (John Bell) convinces him to proceed.
Jamie is further convinced when he overhears his nephew telling Marsali that he had a child when he was with the Mohawk, hinting at the deep bonds he has with Native Americans. "Jamie and Claire suspected something happened," Sam Heughan notes of understanding Ian was holding a secret since his return to Fraser's Ridge.
And, of course, Jamie will be there to support his nephew now knowing what he does about the young man's story. Heughan also teases that this season, viewers will learn more about why "Ian has been changed in some way, and why his relationship with Jamie has also been affected."
Jamie's Indian Agent Role
"I think Jamie's really struggling," shares executive producer Maril Davis about Jamie's new job. "I think he knows what side will eventually triumph, and he knows what side he should be on, but he's struggling with the loyalties."
And it's more than just a responsibility to his family, Jamie has a whole community to consider as the leader of Fraser's Ridge. He's "struggling with how best to be an Indian agent and knowing what's to come with all that information," Davis adds, "and I don't think Ian understands that. Even though he understands that Claire is from the future and has information that can help them."
Ian's conversation with Brianna in which she reveals the harsh reality of Native American history with him, it's still a concept that's hard to accept. At the end of the day, Davis says of Jamie, "I think he wants to help as many people as possible." And as the latest batch of episodes unfolds, she says, "we'll see that over the course of this season."
Claire's Trauma
Showrunner and executive producer Matthew B. Roberts also acknowledge Claire's trauma and it manifesting terrifying visions of Lionel Brown (Ned Dennehy). Considering Season 5's surrealist dreamscape, we can't help but wonder, will there be more in Season 6?
"Last season, we stepped out of ourselves a little bit and said, 'How do we show people's emotions?,' and I think we're going to do that in Season 6," Roberts shares. "We're going to show how people feel, as opposed to just telling the audience how they feel. And you kind of will have to wait and see what comes, but we found a great way of doing that," he teases. Whether those traumatic details will continue to drive Claire to use ether or not will remain to be seen.
Fergus & Marsali's Woes
Still struggling with having not been around when Lionel Brown and his men attacked Fraser's Ridge, Fergus still feels responsible for his wife being attacked and in reaction, is drinking to numb the pain. It doesn't help much when Marsali goes into labor, nor when they learn together the truth about their new son who happens to have dwarfism.
"He tries to save himself with drinking and then it's not enough," Domboy shares of his character's new boozy state. "When the baby that is born, this takes him back to his childhood again," the actor adds, hinting that Fergus has witnessed what life could be like for his new child.
"What I love is that it's not Marsali driven," the actor adds, sharing, "it's life driven and she's just out there helpless, just not knowing exactly how to help him. She tries, but he's kind of helpless at some point. You're going to need a bit of Jamie to save the day eventually."
As for Marsali, she's got Claire on her side to support her through the rough patch. "I think when things get that hard, sometimes you do just shut down and shut off," Lyle says, adding that her character is "so used to doing so much for herself."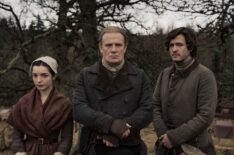 See Also
Mark Lewis Jones, Alexander Vlahos, and Jessica Reynolds reflect on family's arrival and hint at what's to come.
Claire is there to support Marsali when she needs it the most, notes Lyle of their relationship, "it's been developed in such a lovely, slow pace over time. Every season we get something more from the two of them and it's really cheeky, loving, and sort of mother/daughter in a quite unusual unconventional way."
This bond is what Lyle says helps Claire see what Marsali is going through before anyone else really notices, and that is sure to continue as Season 6 keeps airing on Starz. Stay tuned to see what else is on the horizon for the Frasers and those surrounding them as new episodes of Outlander arrive.
Outlander, Season 6, Sundays, 9/8c, Starz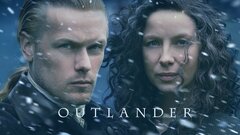 Powered by