'Outlander': Newest Stars Tease 'Chaos' & 'Tragedy' for the Christies in Season 6
The Christies are already stirring up drama on Fraser's Ridge and we're only one episode into Outlander's long-awaited sixth season.
The Starz hit introduced Jamie's (Sam Heughan) former fellow Ardsmuir prisoner and apparent longtime adversary Tom Christie (Mark Lewis Jones) as the man traveled with his son Allan (Alexander Vlahos), daughter Malva (Jessica Reynolds), and their fisherfolk to the North Carolina region to settle down.
Although welcoming, Jamie and Claire (Caitriona Balfe) are apprehensive of the staunch Protestant's potential impact on their community. Their fears are especially apparent when Allan is caught having stolen a powder horn from Richard Brown's (Chris Larkin) men, a family that Jamie and Claire would preferably have nothing to do with.
In order to try and set boundaries, Jamie addresses Tom towards the end of the Season 6 premiere, noting that his word is law on the Ridge. The address falls on deaf ears though as Tom counters God's word is the actual law. With tension flaring, what could be next?
"It's an extraordinary thing to say having been invited to somebody's home," Lewis Jones acknowledges of his character's loaded response. "It really sets it up, he can no more take orders from Jamie Fraser than fly to the moon."
Expect more of that contention as the season carries on, but also expect some surprises as Lewis Jones hints that "there are so many layers to them… Tom, despite himself, despite his Protestantism, is impressed with what Jamie Fraser has done since Ardsmuir. In a way, there's a lot of envy there."
And Tom is no doubt embarrassed by Allan's public shaming which comes from someplace deeper Vlahos teases. "It definitely stems from when Tom was in Ardsmuir, and Allan had to grow up very, very quickly; be the man of the house," the actor says, noting his character's odd relationship with his dad and penchant for fibbing. "Arriving in Fraser's Ridge, I think we understand very quickly that Allan is a notorious liar," he adds. "It's the start of a chain of events that leads to chaos and destruction on Fraser's Ridge."
Just like Tom's layers, Vlahos says Allan has "many sides to himself… I think he's an amazing performer." He knows how to manipulate the people around him for his own benefit. One of those individuals is Allan's sister Malva who also has to decide who she'll be at the Ridge.
"She has to pick and choose how she's going to portray herself and show herself to certain people," Reynolds shares. Viewers got a peek into this during her interactions with Claire in the premiere, primarily during their discussion surrounding science. "She does have a genuine interest in learning," Reynolds confirms. "I think, she's a very intelligent girl. Throughout her whole life, she hasn't been given the opportunity to learn. But, I think, she has that drive in her, and I think that comes from her mother."
Interacting with the Frasers and the fellow Ridge settlers will change the Christies, whether for good or worse remains to be seen. Each member of the family is going on their own personal journey, but Vlahos notes that Tom, Allan, and Malva, "also have a Christies journey together" and with it comes "heartache and horrible stuff."
And although Tom is a strong adversary, that much is clear from the season opener, he'll also be faced with challenges that Lewis Jones says will see Tom "really struggle to maintain his rigidity." Through life on the Ridge, his outlook will be altered, "and also his relationship with his children changes quite dramatically over the next few episodes."
See Also
From Claire's new coping method to Jamie's new job.
"I think ultimately there is a lot of tragedy," Reynolds teases, adding that her character Malva's "had a rough past, but there are moments where she does get carried away, and maybe isn't always the most morally sound person." In what ways, you might ask? The actress teases that things "get a little bit creepy, a little bit weird" this season.
Don't miss what else is in store for the Christies as Season 6 continues to unfold on Starz.
Outlander, Season 6, Sundays, 9/8c, Starz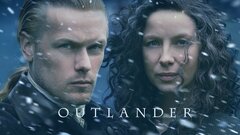 Powered by