Can Anna Torv Turn Sam Reid Into a 'Newsreader'? (VIDEO)
Newsreading isn't for everyone, as a young reporter is warned in the multi-award winning Australian drama series, The Newsreader.
The series, starring Anna Torv and Sam Reid, debuts in the U.S. as a Roku Original on Friday, March 18, and TV Insider has an exclusive first look at the trailer. The six-part series is set in the frantic world of broadcast news in 1986, and it follows the unconventional relationship between Torv's star female news anchor, Helen Norville, and Reid's ambitious young TV reporter, Dale Jennings.
But if Dale is going to become a newsreader, like Helen, it's going to take some work. Watch the trailer above for a look at their relationship, what he has to work on, people talking about the two reporters, and more. Plus, is Dale hiding something?
It's that relationship between Helen and Dale that will draw viewers in "as they illustrate the complexities of pivotal historical events such as the AIDs epidemic to the explosion of the Challenger in space, while overcoming their own hardships and triumphs as the world as they know it is changing," according to the series description.
Joining Torv and Reid in the cast are Robert Taylor, William McInnes, Chum Ehelepola, Michelle Lim Davidson, Stephen Peacocke, Chai Hansen, and Marg Downey. Torv won Best Lead Actress in a Drama at the 2021 Australian Academy of Cinema and Television Arts Awards for her work on the series.
Michael Lucas created, wrote and executively produced the series along with Joanna Werner, Stuart Menzies, Sally Riley and Brett Sleigh. The series is directed by Emma Freeman.
The Newsreader, U.S. Premiere, Friday, March 18, The Roku Channel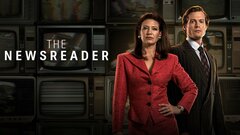 Powered by