'Love Is Blind' Creator Responds to Shake's Unfair Editing Claims
Love Is Blind creator Chris Coelen has responded to contestant Abhishek "Shake" Chatterjee's claim that he was the victim of unfair editing on Season 2 of the Netflix dating series.
Shake was the de facto villain of Love Is Blind Season 2 because of the judgmental things he said about ex-fiancée Deepti Vempati. He admitted he was the season's villain during the Love Is Blind reunion episode (in addition to admitting that, for him, "love is blurry"), which debuted on March 4. But rather than own the comments he made throughout the season, Shake said the editing made him look bad. Coelen and his team didn't mind Shake's accusation.
"If we were afraid of that comment, we could have taken it out," Coelen told Variety. "But I'm not afraid of that comment, because during this process, we want to give people the opportunity to say whatever they want to say. Every other member of the cast seems to think that he got a pretty good edit."
Contestant Natalie Lee said during the reunion that the show produced "a very watered down version" of Shake's inappropriate comments about women made throughout the second season. And Shake didn't do much to repair his image in the reunion episode.
He was defensive when the other cast members called out his treatment of Deepti, and he gave unsolicited commentary about the other couples' relationships. Shake's comments in the reunion also prompted criticism from hosts Nick Lachey and Vanessa Lachey.
"I think you were on, if I may, the wrong show," Vanessa said. "And what I mean by that is there are shows where they are based on their looks and if they have a connection. But what I'm saying is you need to open your heart to a bigger picture."
She added, "The problem that I have, Shake, is that you sit there and berated every single one of these women physically and then went through the process with this beautiful soul over here all because you wanted someone that you wanted to f**k, not fall in love with."
See Also
From shocking revelations to new connections and happily ever afters, the 'Love Is Blind' cast reunited to spill all the behind-the-scenes tea of Season 2!
At one point, the veterinarian said the only woman on Love Is Blind he was attracted to was Vanessa, which neither Vanessa nor Nick (her husband, who was sitting right next to her when Shake made the comment) nor the other contestants enjoyed. Vanessa replied by saying, "And I've done nothing but berate you this entire time. That's a messed up relationship."
"It's nature, baby," Shake said. "We're animals!"
"No, you treat animals. We're human beings," Nick shot back. "It's a big difference. I see now why you don't treat human beings."
The Lachey's comments were a rare, but satisfying moment of blunt honesty from the hosts. Coelen also addressed the host's critiques of Shake.
"We don't tell them what to say or not to say, it's their thing," he said. "Shake was jumping in from the word 'go.' Nobody tells him to do that. That's what he decided to do, he wants to get his point of view across and I guess, good for him."
"He says at the end of the reunion that he owns his actions," Coelen added. "He's doubling down on it, and I think all of that speaks for itself."
What do you think? Was Shake the victim of bad editing, or did he earn his place as the Season 2 "villain?" Sound off in the comments below.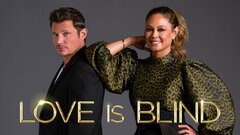 Powered by