'Love Is Blind' Season 2 Reunion: The 7 Most Shocking & Revealing Moments
Love Is Blind Season 2 is officially over, and to say it was a wild ride would be an understatement. From love triangles to hurtful comments to relationship-ending fights, this season's contestants went through their fair share of drama.
After two couples ended the season with rings on their fingers, the entire cast reunited with hosts Nick and Vanessa Lachey to spill all the behind-the-scenes tea in the reunion special. Which couples gave it another shot? How did they react to watching the show for themselves? What cringe-worthy statements came out of Shake's mouth? Read on for the most revealing moments from this season's reunion episode!
Reliving Hard Moments
Needless to say, watching back certain moments was hard for several cast members. Putting their feelings and relationships on display for the whole world to see was a tough thing to do — and even harder when they could see what their partner's true feelings were. For starters, Kyle never realized Shaina's hesitance to get engaged until watching it play out. What he imagined her reaction to be was not what was on the other side of the pod wall. Speaking of proposals, Iyanna felt awkward watching Jarrette's failed proposal to Mallory, revealing that they did not watch the show together.
Both Salvador and Iyanna were hurt seeing Mallory and Jarrette's flirty conversation in Mexico after meeting face-to-face for the first time. While Iyanna and her man were able to work things out, the incident was one that led to Sal and Mallory's downfall. Knowing Sal felt disrespected by the interaction, Mallory apologized again for her words but stated that she knew the confrontation was bound to happen. It was inevitable that she and Jarrette would have to talk about their pod connection and work out their feelings.
Natalie & Shayne's "What If"
After saying "I Don't" at the altar, a few of the couples tried to make things work after the show wrapped. Shayne and Natalie were one of the strongest couples of the season until their off-camera, pre-wedding day fight threw their relationship over the edge, causing her to end things at the altar. They revealed during the reunion that they reconnected the next day and tried to work through things. Ultimately, the breakup was too fresh for either to feel comfortable moving forward. Shayne admitted to his wrongdoings and has since apologized many times, but Natalie has found it hard to forgive his hurtful statements, despite knowing he didn't truly mean what he said.
Mallory & Sal's Failed Connection
Things were looking up for Mallory and Sal after the latter said "no" during their ceremony: They reconnected and agreed to take things slow once the pressures of the show died down. Unfortunately, after a few dates, the two called it quits, stating they are simply too different. Mallory said that they wouldn't have had as strong of a connection had it not been for the experiment, but their relationship just didn't translate well into the real world.
Shake's Confrontation With the Cast (and Hosts)
If there's one thing the cast (and the hosts) can agree on, it's that Shake was on the wrong dating show. After showing promising signs of change throughout the season, he wasn't able to "shake" his superficial feelings about Deepti, never being able to reach the same level of physical attraction that she did with him. Not only did the cast call out his treatment of his ex-fiancé, but he made it his business to make uncalled for comments on other people's relationships. Deepti certainly made the right choice in breaking off their engagement, and hopefully he will one day learn to change his ways.
Justice for Deepti
Since the finale, Deepti has been sharing her feelings after receiving an outpour of support from fans online and her fellow cast members. Natalie even revealed that the show was a "watered-down version" of all the things Shake said behind her back. Deepti was hurt after hearing his hurtful comments, especially after being one of the only guys she's ever brought home to meet her family. She held her head high and stood her ground throughout the entire reunion, debunking comments that came out of Shake's mouth. She summed up her feelings perfectly, saying that she understands how a person might not be physically attracted to someone, but the words Shake used to describe how he felt about her were not OK. After all, he said he felt the same way about her as he does about his aunt, which is certainly a relationship red flag!
Happily Ever Afters for Jarrette & Iyanna, Danielle & Nick
For all the negative feelings throughout the episode, the reunion did bring some good news. Danielle and Nick and Iyanna and Jarrette have been enjoying married life since saying "I do" in the season finale. Like any married couple, each has faced some challenges adjusting to their new lifestyles, but it has all been worth it in the end. Jarrette has put aside some of his partying ways, while Iyanna has broken out of her shell and become more social. Danielle and Nick have learned to "listen more" and "talk less," along with attending couples therapy sessions.
Deepti & Kyle's New Connection
The reunion also hinted at a potential new connection, as Kyle shared his biggest regret was not proposing to Deepti. We didn't get to see much of their connection in the pods, but we would love to see them find love after their failed Love Is Blind relationships. Perhaps they needed to be with the wrong people to realize the one that's right for them!
Love Is Blind, Season 2, Now Streaming, Netflix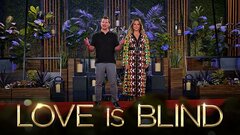 Powered by