'NCIS: LA': What's Going on With the Callen Deep Fake?
[Warning: The below contains MAJOR spoilers for NCIS: Los Angeles Season 13 Episode 10 "Where Loyalties Lie."]
Remember last season when the team worked a case that ended with the reveal of a deep fake of Special Agent G. Callen (Chris O'Donnell)? Well, it's back on NCIS: Los Angeles.
In Season 12's "Imposter Syndrome," the team was duped by a deep fake of Special Agent Fatima Namazi (Medalion Rahimi). During the investigation, the agents discovered a deep fake had been created of Callen. The case wasn't tied up neatly with a bow, but there was speculation that whoever was behind the operation knew the team, like Russian spy Katya (Eve Harlow). At the time, Special Agent Sam Hannah (LL Cool J) had called it "the ultimate trap for Anna (Bar Paly)." Is that what's going on here?
At the beginning of "Where Loyalties Lie," Callen was confused when he received a call from Dr. Hodge (Tom Virtue), following up on their video appointment from two weeks earlier. "You really don't remember?" he asked when the agent noted he hadn't seen him in a year. It wasn't him, Callen insisted, and the doctor went to check his files.
Then, Callen listened to a voicemail from someone at a bank: "We spoke a few days ago. I'm sorry, we can't approve your loan application at this time. I hope your mother's OK." Was it Anna, Sam asked. Callen assumed it was just a robo-call. But it seems likely the Anna mention was to connect it back to that previous episode.
Later, as seen in the video above, Dr. Hodge texted Callen: "Double-checked my files. We did talk two weeks ago. Call me tomorrow." And the episode ended with a look at that deep fake of Callen, which someone was making say, "Anna, you know how much I love you." Is this the work of Katya, trying to draw out Anna with a video call from Callen, and the doctor and bank were tests to see if it could work?
That seems very possible, considering Paly returns as Anna in the March 13 episode, "All the Little Things," which also brings back Peter Cambor as operational psychologist Nate Getz. But is what's going on with the deep fake connected to why Nate's around, to meet with Admiral Kilbride (Gerald McRaney) and learn about the CIA project from the '70s and '80s involving children, like Callen?
See Also
Plus, the team investigates an unidentified aircraft that crashes into a Navy plane.
Whatever's going on, we have a feeling we'll be seeing Callen learn of at least one more call he supposedly made — whether to Anna or not — before he and the team put all the pieces together.
NCIS: Los Angeles, Sundays, 9/8c, CBS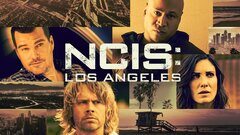 Powered by