'Outlander': Caitriona Balfe & Sam Heughan Break Down the Season 6 Premiere
[Warning: The below contains MAJOR spoilers for Season 6, Episode 1 of Outlander, "Echoes."]
Outlander's Season 6 premiere was filled to the brim with the show's signature drama, setting up big twists and turns that are sure to take its many characters on an interesting journey.
From Jamie's (Sam Heughan) decades-long tension with Tom Christie (Mark Lewis Jones) to Claire's (Caitriona Balfe) decision to self-medicate with ether, there was a lot to consider in the show's return opener. Below, stars Balfe and Heughan, along with showrunner Matthew B. Roberts reflect on Season 6's biggest revelations so far and tease what's to come.
Claire's Bad Habit
Claire really struggles with her PTSD in the premiere following her Season 5 attack at the hands of Lionel Brown (Ned Dennehy). That trauma urges her to walk a precarious line between ethical medical practice and questionable treatment methods. After figuring out a recipe for ether — an anesthetic — Claire tests its effectiveness only to eventually use it to escape her brutal nightmares.
"What seems on the surface to her consciously is her just using this ether for medicinal purposes so that she can understand it and how to administer it to her patients," Balfe explains. "Really, what starts to happen is she uses it as a crutch, and this becomes a way for her to escape the noise and the fear that's bubbling up within her."
For now, Jamie is unaware of the coping method Claire has picked up. There's a lot of commotion pulling the Fraser patriarch's attention in different directions. "He expects her to talk about it and she doesn't. So, therefore, I think he thinks everything will be okay," Heughan shares. "He's taken his eye off of her because of other things going on with the politics and the impending war that's coming."
Expect the pattern of behavior to continue as Balfe teases, "it [takes] a long time for her to actually admit to herself that she is becoming dependent on it and that she's not okay. And I love the way that the writers give time to let that draw out and to really explore her suffering this PTSD and her journey of healing."
Jamie's New Job
As the threat of Richard Brown (Chris Larkin) and his committee of safety loom over Fraser's Ridge, Jamie agreed to take on the role of Indian Agent in the region but not without some hesitation. "Yeah, he's completely reluctant," acknowledges Heughan.
"He's obviously been given this job by the Crown. He doesn't want to associate [with them] anymore, and he would rather sit out. He knows that there'll be a time when he needs to switch sides," Heughan adds, noting Jamie's prior knowledge of the incoming war from his time-traveling wife and daughter.
"He's instructed to become an Indian Agent and, he doesn't know whether the Native Americans will fight alongside him or against him," the actor adds. "So, he also has to juggle whether he should be supplying weapons or be aiding them at all. It is a really tricky situation."
And it's not the only tricky situation Jamie is facing as Tom Christie and his people pose a new threat.
Getting to Know the Christies
"You know, Tom is a very interesting character, and he wears his religion very strongly and leads with it at all times, and I think for Claire, she finds that quite tiresome," Balfe shares of Claire's feelings towards Jamie's old acquaintance. "They have an interesting relationship, Tom and Claire. He's very wary and suspicious of her because, A, she's a woman and, B, she's intelligent and she speaks her mind."
Viewers got a peek at this during Claire's treatment of Tom's hand injury in the premiere. "There will be a lot of tension between these two characters," Balfe further teases. As for knowing the full extent of his and Jamie's long-simmering tensions, showrunner Matthew B. Roberts paints a different picture for Claire's awareness.
"Jamie shares a lot. He shares everything he can with Claire about it," Roberts says of the highlander's openness about his past with Tom. "What Jamie doesn't know is what time has done to Tom. He knows what it's done to him. He knows what it's done to Claire and Roger and Bree. So he can see that the traumas sometimes take the edges off of people. And I think there's a hope that everything in Tom and Jamie's past has gone away, that Tom is a different person than he was before."
As for this wishful thinking, don't expect much. "Tom has created more edges… He hasn't softened," Roberts adds. "His resolve has become much more hardened [along with] his piousness and he feels like he has God at his back at every turn, that he's righteous and Jamie has to work through that."
In other words, gear up for one heck of a rollercoaster because Season 6 is about to be a bumpy ride for the Frasers.
Outlander, Season 6, Sundays, 9/8c, Starz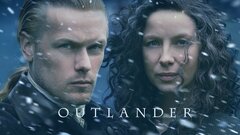 Powered by