'Outlander': The Christies Make a Splash at Fraser's Ridge in 'Echoes' (RECAP)
[Warning: The below contains MAJOR spoilers for Season 6, Episode 1 of Outlander, "Echoes."]
Outlander is back and setting up a lot of drama for Claire (Caitriona Balfe) and Jamie (Sam Heughan) as they deal with threats old and new in the Season 6 premiere episode, "Echoes."
From the encroaching war to ghosts from Jamie's past and Claire's enduring trauma, the folks at Fraser's Ridge are in rough shape when the story picks back up. Offering viewers a brief recap, the installment opens with a little narration from our heroine Claire as she introduces us to this latest chapter.
Instead of immediately moving forward in time, the premiere takes viewers back to Ardsmuir in 1753, when Jamie was imprisoned at the same time as Tom Christie (Mark Lewis Jones). As Jamie gathers rocks with his fellow prisoners on the Scottish countryside, Tom preaches to his "Protestant friends." There's a clear divide between the Catholics and Tom's followers, leading to a scuffle that is later addressed by the prison's Governor. He appeals to Tom and Jamie to try and keep the peace among the other men, but Jamie is adamant that he wants no involvement.
Tom believes the rioters deserve a punishment, signaling as one of the examples that separate him from Jamie. As Jamie goes to exit the private room, he notices a secret handshake between Tom and the Governor, giving him an idea. As the flashback continues, Jamie talks about Claire with a fellow inmate who is also missing their love.
A new day on the outside of Ardsmuir's walls sees Jamie helping the men with rocks once again, but Tom can't understand why he's partaking when he has a leadership role to watch over them. The Jacobite prisoners begin getting spirited over their Scottish pride and Jamie keeps his mouth closed as Tom spouts his own beliefs aloud. The clashing sides riot once again, but this time a young prisoner is seriously injured. An older inmate lays a piece of tartan on the man's chest in tribute, and the redcoats ask for the culprit to come forward as it's illegal to have such fabrics.
Jamie takes the blame just as Tom's about to tattle and, as a result, must endure several lashings as a punishment. Instead of focusing on the pain, Jamie sees a vision of Claire walking towards him. When it's time to collect more rocks, Jamie refuses, noting that the boy who had been injured has died and out of respect they don't plan to participate in labor assignments.
The Governor calls on Jamie to find out why he's giving the guards trouble, and Jamie asks the man to be made a Free Mason, calling back to the handshake he saw between the man and Tom. The request is made with purpose as, on a new day, Jamie asks the men to put their religious differences aside and agree to believe in a higher power as the Free Masons do so that they may work together. Meanwhile, this doesn't please Tom, who realizes his seat of power in the prison is gone.
This is where the story shifts back to Outlander's 1773 timeline in North Carolina where Tom approaches Fraser's Ridge. Meanwhile, day-to-day life continues for the rest of the Ridge's inhabitants as Ian (John Bell) brings a deer back for dinner, Lizzie (Caitlin O'Ryan) fetches water, and twins Keziah and Josiah Beardsley (Paul Gorman) make repairs.
In Claire's office, Jamie finds her passed out in a bed and fears she's dead, but a timer on the table hints at a scheme. She rouses and seems pleased with the results as she thrills over her latest medical aid: ether. The recipe can be used as an anesthetic for surgeries, something Jamie isn't so sure about. Jamie tells his wife it would be a shame to not feel anything, and then he brings up the sore subject of the Browns and their committee of safety. Jamie also informs Claire that he's been asked to serve as an Indian Agent in the area, keeping close to the Native Americans to keep strong bonds and allyship between them and the crown.
Jamie doesn't really want the gig as he explains to Claire on a jaunt to Marsali's (Lauren Lyle). On the way there Claire notes that he's been her shadow since Lionel Brown (Ned Dennehy) and his men assaulted her. She tries reassuring him that she's fine, but he isn't so sure.
When they arrive at Marsali and Fergus' (César Domboy) home, Jamie takes the grandkids out while Claire goes to examine her daughter-in-law who is expecting another baby. Marsali mentions that the baby doesn't move much but that doesn't really scare her — but what scares Claire is a big bruise on the girl's wrist. Marsali claims it's from her own clumsiness, but Claire doesn't take long to ask about Fergus who Marsali says has been working a lot at the Ridge's whisky still. Allowing Marsali to sell her this story, Claire advises the young women to get some rest and have Fergus take on more household responsibility.
Back at the main house, Brianna (Sophie Skelton) and Roger (Richard Rankin) discuss the supply of teas and coffees as he remarks on the shame that much of it will be dumped in a harbor, referring to the Boston Tea Party. Brianna asks her husband if he's a Patriot and he reminds her that he and Bree's mother were on the losing side considering their backgrounds. Both of them ponder the upcoming war and its ramifications just as Tom knocks on the front door.
Roger and Bree welcome him into the home where Tom explains that his children Malva (Jessica Reynolds) and Allan (Alexander Vlahos) and him along with their fisherfolk need a place to reside. He presents Roger with the pamphlet Jamie sent out to former Ardsmuir prisoners, revealing how he knows Jamie. Tom explains that he worked as a tutor, something that Roger can relate to himself. When Tom asks if there's a school or church on the Ridge, Roger regrets to inform him that there aren't yet, but that they're working on it.
Upon Jamie and Claire's return home, he is shocked to come face-to-face with his former fellow inmate, and although welcoming, appears visibly reluctant to be super friendly to Tom. Ever the hospitable couple, Jamie and Claire agree to welcome Tom, his family, and their fisherfolk to the ridge, and supply gathering commences almost immediately.
As Claire and Bree put some items together in boxes, Bree commends her mother for her strength and Claire proceeds to do the same, questioning why Brianna hasn't continued with her inventions to help the ridge. Bree claims that she's fearful her tools could attract unwanted attention like Claire's Dr. Rawlings health pamphlets did, but the healer pushes her daughter to do what's right and help change lives with her ingenuity.
Packing things up, Claire and Jamie follow Tom to the spot down the road where everyone else is camping out. There, they meet Tom's kids Malva and Allan, who are friendly and helpful under their fierce father's watch. Claire is led to the sick and Jamie helps Tom unload supplies, chatting along the way. Tom makes a remark that a higher power must have granted Jamie all of these riches.
Later that evening back at the main house, Jamie and Claire discuss the role the Christies will have on the ridge, and Jamie admits that he's not convinced their presence will be peaceful. Claire does her best to reassure him, and they share a romantic moment together. The next day, Claire is surprised by Malva in her office, where they end up chatting about science. Malva admits that her father is more aligned with theology, and asks if there's bread she can take back for the congregation.
Elsewhere, Jamie talks with Major MacDonald, one of the redcoats in charge of the territory who pleads with him to consider taking on the Indian Agent role. Jamie continues to decline and heads out to help the Christies and fisherfolk with building their new homes. As Tom says a few words of prayer, he brings up plans to construct a school and church to show their appreciation to the Frasers. Walking into the clearing, Jamie, Roger, and Bree arrive to commence construction, advising the settlers on how to proceed.
In a moment of rest, Marsali walks up to Bree and they meet a widower among the fisherfolk, someone who pulls at Bree and Roger's heartstrings. Fergus stumbles into the scene to help build, but his drunken state can't aid in the efforts. Under Tom's glare, Jamie tells his adoptive son to spend more time at home, noting his disheveled state.
Off in the woods, Ian and Allan hunt for everyone, with Ian wielding the Mohawk's bow and arrows and Allan opting for a gun. When a shot comes flying their way, the Browns ride up, and Richard (Chris Larkin) apologizes for the misunderstanding, claiming that Ian resembled the natives too much. In response, Ian blasts Richard's judgment, calling the man out for the fib.
Back at the main house, Claire's work is interrupted when Malva comes in with Tom — his hand is injured and he needs help. Upon seeing the wound, the man nearly faints but perks up when Jamie walks in. Claire notes that his other hand is in need of attention as his fingers appear stuck in a claw-like formation. He denies that it needs anything and allows Claire to sew up his cut. "At least it will be an honorable scar," Tom says to Jamie as he exits the house.
When Claire asks what he meant, Jamie says it's referring to his lashings at Ardsmuir which were taken as punishment for another person. Later that evening, the table is set for a meal as Major MacDonald meets with Jamie again and the Christies arrive with their folk for a party. Marsali tries sobering Fergus up in the kitchen where Lizzie makes a comment about needing two hands, unaware of how it could offend Fergus. In the main area, Roger and Bree help out the fisherfolk widow with her son who was putting up a fuss about eating dinner.
The merriment is disrupted though when the Browns ride up and charge that a powder horn of theirs was stolen. They single out Allan as the culprit, yanking the item off his person. As a punishment, Jamie is forced to give the man ten lashes. The event causes Jamie to make a decision, and he tells MacDonald that he'll be the Indian Agent to prevent Richard Brown from getting the job.
See Also
'As with a lot of people who experience trauma, this is, in some ways, new ground for her,' Balfe says of her character's experience this season.
Following the event, Jamie tells Tom that his word is law on the ridge and if he wishes to live there he must abide by it. Tom doesn't acknowledge this and tells the man God's word is law. Back at Marsali and Fergus' house, he drinks some more and they fight about the predicament. He apologizes for being a disappointment, leaving our stomachs in knots. The torture doesn't end there as Claire's trauma comes to the surface in a horrifying nightmare, waking her from sleep.
Exiting her room to make tea, she catches sight of the ether in the corner of the room. Rather than settling for a warm cup of soothing tea, she opts for the anesthetic, drifting into a dreamless slumber, and hinting at a bad habit to come.
So, what did you think of the Outlander Season 6 premiere? Let us know in the comments section, below, and stay tuned for more drama as the series continues on Starz.
Outlander, Sundays, 9/8c, Starz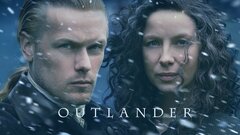 Powered by