'Killing Eve' Boss & Star on Villanelle's Actions, Eve and Helene's Dynamic
[Warning: The below contains MAJOR spoilers for Killing Eve Season 4, Episode 2 "Don't Get Eaten."]
When the final season of Killing Eve began, Villanelle (Jodie Comer) was determined to prove she'd changed. She was baptized, and she even stopped herself from killing the vicar's daughter in the premiere. By the end of Episode 2, well, we're seeing a Villanelle we're more used to.
After a camping trip with the church group doesn't go as planned, Villanelle killed the vicar, whom she hadn't been able to turn everyone against, and his daughter, who had warmed up to her after the near-murder only to decide she was the devil. "[Villanelle] thinks it's a blip that she can recover from," head writer and executive producer Laura Neal tells TV Insider of that brutal act.
Meanwhile, Eve (Sandra Oh) tracks down a member of the Twelve, Helene (Camille Cottin), and despite Yusuf's (Robert Gilbert) strong advice against doing so, goes right up to her door and knocks. It's a move that Gilbert — and his character — can understand.
While the series won't be going into much detail of his past (he was in the French Foreign Legion), "he found himself in a similar position emotionally to where he can see that Eve is at, and that is maybe what links him to her or [allows] for him to be able to sympathize with her motivation," Gilbert explains. Because of that, "you understand that there's not a lot you can do to stop them from doing certain things. While you might try to advise them or say, 'Hey, listen, trust me, there's other ways to accomplish this that are gonna be more effective and maybe will leave you a little less scarred when you come out the other side of it, you also don't judge them when they choose to go ahead."
As it turned out, Helene was expecting Eve; she hadn't been fooled by the tampon with the tracker slipped in her bag. Eve surprised her by starting to cook her dinner, while Helene in turn revealed she, too, wants to cut the head off the monster (a.k.a. take down whoever's at the top of the Twelve). It's an intense scene, one with a burned hand (Eve's) and a pointed bedtime story (for Helene's daughter) that left the two seemingly in a race to get to that person at the top.
"That's exactly what it is," Neal confirms. "Towards the middle of the season, you can look forward to that race coming to a climax."
In crafting that scene, "I was really curious, with Eve who's learned everything she's learned from Seasons 1 to 3, what happens to that character if you put her in front of someone as dangerous as Villanelle, perhaps in a different way," the head writer explains. "How does she carry herself with somebody who she doesn't have that huge history with? Can she come as a fresh Eve into that dynamic? What does that do to her status and her power? When we were speaking about Helene and Eve, it's all about the power dynamic, who's in control at any one time. What's so delicious about that scene is you're never quite sure. The power dynamic is constantly flip flopping in actually quite subtle ways. It flip flops line to line, and that was a joy to write."
So what's Eve up to after that? Watch an exclusive sneak peek of the March 13 episode:
Eve and Yusuf's relationship isn't just professional, but while it has crossed into personal, she makes it very clear how casual it is by ripping up the tickets to France he got them (which turned out to be to track down Helene). But he's not expecting it to become more than it is, either. "He certainly wants them to have a great time and wants to operate as a team with her, but I think that his care for her and the closeness he feels with her is much more about him having felt the way that he sees her feeling now, as far as chasing revenge, trying to fill the hole of guilt with kind of action and violence and proactivity and aggression," Gilbert shares. "I don't think he's chasing a traditional romantic relationship with her. I don't think he's actively avoiding it, but I don't think he's kind of angling for that."
As for what he sees of Eve's very complicated dynamic with a certain assassin, "he can see pretty clearly where Eve is at with Villanelle," Gilbert says. "He's aware of the kind of inevitable nature of that relationship, but he also is hopeful that Eve might be able to prioritize herself. Everybody's been in that type of relationship where it kind of feels all-consuming and even when you think you're in opposition to it, you're always in reaction to it. He'd love it if he could steer her in a different direction, but I think he's aware that that's probably not possible."
See Also
'Villanelle is very rarely coming towards Eve and wanting her attention in such an obvious way,' says lead writer Laura Neal.
And if you think that Yusuf could end up in the line of fire by being on Eve's side, you'd be correct. "Being around Eve since she met Villanelle is dangerous. And I think now that she's on this war path, it's certainly dangerous, but Yusuf's a very capable dude," he says. "And I think there's a part of him that is in an unhealthy way kind of getting off on the fact that that might happen. He's a reformed guy a little bit. He had a violent period of his life, which he has kind of managed to come back from. I think there's a part of his and Eve's relationship which is feeding that old side of Yusuf. He recognizes that energy and it's intoxicating in a certain kind of way."
Killing Eve, Sundays, 8/7c, BBC America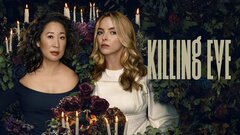 Powered by