Review: 'Welcome to Flatch' Is Good for the Occasional Chuckle
Small towns have always been great fodder for comedy. Consider Gilmore Girls' Stars Hollow or the title location of Schitt's Creek. Yet Fox's new mockumentary-style sitcom about Flatch, a fictitious middle-of-nowhere Ohio town with 1,526 people, operates on the premise that these places are unbearably boring.
Young adults Kelly (Chelsea Holmes) and Shrub (Sam Straley) are our primary tour guides in Welcome to Flatch, a series that revolves around these so-called "walking disappointments"—two-dimensional cousins and best friends bonded by their lack of smarts, steady jobs and other friends—instead of the more colorful characters that usually populate sitcoms.
It's not as if the show isn't good for the occasional chuckle: Aya Cash (above, You're the Worst) stands out as local newswoman Cheryl, whose can-do attitude propels her to track down the town sign when it is stolen by neighboring rivals in Pockton.
But mostly Flatch wallows in bleakness, consumed by its own gimmick (suggested town motto: "Flatch–not the worst place to be"), and the writing isn't sharp enough to make up for it. The show posits that "Americans long for a simpler life in small towns." They won't after watching Flatch.
Welcome to Flatch, Series Premiere, Thursday, March 17, 9:30/8:30c, Fox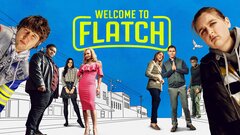 Powered by