Inside 'Sanditon' Season 2 With the Cast & Creators: 'This Is Really Charlotte's Story'
Sand, seashells…and an airplane hangar? Welcome to the set of Sanditon, outside Bristol, England, where the 19th and 21st centuries collide. Not that viewers will notice when the long-awaited new season of the Masterpiece series premieres on PBS on March 20. But when the cast filmed scenes at a specially made beach last year, a huge aircraft shed where the Concorde was constructed sat where the water should be. The sea was digitally added later.
The set is just one new element of the resurrected romantic drama, inspired by Jane Austen's unfinished novel. Also painfully new: the absence of leading man Theo James as Sidney Parker, especially since the first season didn't deliver the Austen-style happy ending for cherished pair Sidney and Charlotte Heywood (Rose Williams) that fans had hoped for. Instead, Sidney announced that he was marrying his former fiancée, whose money would keep his brother Tom (Kris Marshall) out of debtor's prison.
By the time Sanditon premiered in the U.S., in January 2020, it had already been canceled by its British broadcaster, and it took a year for producers to secure the financing to rescue the show. When two more six-episode seasons were announced, James dashed hopes that Charlotte and Sidney would find happiness with the news that he wouldn't be returning. "We've heard from a lot of fans that they are going to greatly miss Sidney," says Masterpiece executive producer Susanne Simpson. "What we hope is that they'll give the series a chance because this is really Charlotte's story."
And when Miss Heywood returns to the seaside resort town of Sanditon in the summer of 1820, nine months after Season 1, she discovers a whole new world. Simpson credits director Charles Sturridge, whose period drama work dates back more than 40 years to Brideshead Revisited, with the idea to create a promenade connecting town to beach where characters "would all walk right against the beach and the sea. It gives an opportunity for a beautiful backdrop and chance meetings."
On the chilly November day when TV Insider took a virtual tour of the fictional Sanditon, the actors were working on sets that had been built inside the hangar. We traveled down a deserted street where exteriors were shot, past a grocer's, a florist's, and a bookshop. The house of local visionary Tom Parker looked smashing from the front, but — surprise! — the door opened into an empty corridor. Even the trees weren't what they seemed. Their leaves were held in place by wires — making them easier to remove and reattach depending on the season of the scene. Flexibility was necessary because Seasons 2 and 3 were shot back to back from July to December 2021.
"It's gorgeous, and the attention to detail that's gone into it is beautifully done," Marshall says about the new town. "You feel really immersed in what you're doing."
As for storylines, the creative team aimed for a balance between "escapism and relatability," according to executive producer Belinda Campbell: "It is really important to us that they have contemporary resonance with the audience's lives today."
And while Sidney may be gone, Charlotte hasn't forgotten him, and she's sadder and wiser as a result. "My focus was to try and honor the Charlotte that was the Charlotte of Episode 1," says Williams, "and also come back fresh, with a bit more emotional experience and growth." She's the opposite of her younger sister Alison (Rosie Graham), who joins her on this journey and can't wait to find a husband.
Heiress Georgiana Lambe (Crystal Clarke), meanwhile, has been keeping busy fending off fortune hunters after getting her heart broken last season. "She doesn't want to give up on love entirely, but she's still scared," explains Clarke.
The young women make the most of their Sanditon summer, encountering plenty of handsome eligible men along the way. Bohemian artist Charles Lockhart (Alexander Vlahos, who's also in the current season of Outlander) takes a shine to Georgiana, while Charlotte catches the eyes of both Francis Lennox (Tom Weston-Jones), a handsome army colonel, and wealthy recluse Alexander Colbourne (Ben Lloyd-Hughes). Charlotte becomes governess to his rebellious young daughter Leo (Flora Mitchell) and sassy teenage niece Augusta (Eloise Webb).
Of course, any love interest for Charlotte would invite instant comparisons to Sidney. "We knew that once we got rid of Sidney, we couldn't bring in a new love interest right away," says head writer Justin Young, who replaces Andrew Davies. "We thought: Let's make sure that Charlotte was adamant that she doesn't want a new lover, and then let's bring in two men and keep them an open question about if either of them would be with her."
See Also
Find out how you can watch new episodes of the period drama ahead of the television broadcast.
There's no rush. One luxury the writers had this time was a two-season guarantee. "We were able to plot a really long arc," Young explains. "There are elements in Episode 1 of Season 2 that pay off in the final episode of Season 3."
Sanditon, Season 2 Premiere, Sunday, March 20, 9/8c, PBS (check local listings at pbs.org)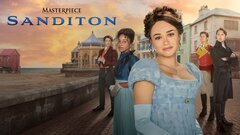 Powered by