Roush Review: Samuel L. Jackson Reveals Many Sides of 'Ptolemy Grey'
What a great character Ptolemy Grey is for a marvelous actor like Samuel L. Jackson. Make that characters.
Because in Apple's The Last Days of Ptolemy Grey, Walter Mosley's emotionally thrilling six-part adaptation of his 2010 novel, we meet many versions of Ptolemy. At first, this old man is a lost soul, living amid filth and clutter in a fearful haze of dementia, surrounded by ghosts from his turbulent past. When his great-nephew Reggie (The Unicorn's Omar Miller), the only relative who cares for him with any compassion, is suddenly murdered, we fear Ptolemy will be forgotten forever.
Don't let the oppressively downbeat tone of the opening chapter mislead you. Soon enough, two events change everything in old Ptolemy's world: First, the arrival of plucky teenage orphan Robyn (tough yet tender Dominique Fishback), who takes charge of cleaning up his infested apartment so she'll have somewhere to stay. Their bond is fractious is first, but warms up once she escorts him to a doctor (Walton Goggins) who offers a salve: an experimental drug that will restore Ptolemy's memories, but only for a while.
"He will remember everything he has ever known," promises the doctor, which can be a blessing and a curse, because there are some traumas Ptolemy would just as soon forget, although he's tickled to reflect on the love of his life, Sensia (a stunning Cynthia Kaye McWilliams). While a newly revived Ptolemy investigates mysteries of his past, including clues suggesting he may have the key to a long-lost treasure, he also pledges to solve Reggie's murder: "What kind of man would I be if I didn't recognize the injustice of his passing?
See Also
Exclusive first look at Apple TV+'s new series.
Jackson brings every conceivable shading to the role, with confused grief evolving into a charming swagger as the real Ptolemy emerges, though he and the devoted Robyn know it's not destined to last. Likewise, Last Days works on multiple levels: as a memory play, love story, mystery, tragedy and a tribute to the human spirit of a man whose light is rekindled for too short a time.
The Last Days of Ptolemy Grey, Limited Series Premiere (two episodes), Friday, March 11, Apple TV+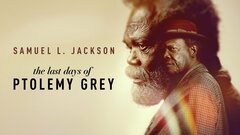 Powered by