Roush Review: Drop In on Hulu's Engrossing 'Dropout,' a Tale of Fraud & Hubris
Elizabeth Holmes always wanted to be famous. Steve Jobs famous. But maybe not quite like this.
Gracing magazine covers including Forbes as she rose to the top of the tech world before her staggering downfall, more recently on trial and convicted of criminal fraud, Holmes relished her celebrity and the attendant perks as founder and CEO of Theranos. Her bio-tech company promised a universal and cheap blood-testing method that would revolutionize and democratize the health-care industry. Only one problem: It never worked and was never going to.
In Hulu's compelling eight-part The Dropout, Amanda Seyfried skillfully humanizes this enigmatic faux visionary who captivated the world and the media as a young, glamorous ladyboss who built her company on a dream—and a lie. Seyfried captures her eerie intensity and drive—Alabama's "I'm in a Hurry (and I Don't Know Why)" is on her playlist—but also her immaturity and insecurity, as she falls under the spell of entrepreneur Sunny Balwani (Lost's excellent Naveen Andrews), who becomes her Svengali and mentor in fraudulent mendacity.
As she works overtime to shape her public image, deepening her voice and adopting a wardrobe of trademark black turtlenecks, Holmes' idealism mutates into delusion and paranoia when faulty tech in the Theranos lab fails to make good on her promise of a home test—it eventually ended up in "wellness centers" at Walgreens' stores—that could diagnose all manner of medical information from a single drop of blood. She should have listened to the skeptical Stanford professor (played by The Conners' terrific Laurie Metcalf) who sees through her right away, scoffing at Holmes' Yoda philosophy "Do or do not. There is no try." (The saying would end up on the wall at Theranos' corporate headquarters.)
"You have to do the work," the professor warns her. "Science is trying, that's all that it is." But does Elizabeth listen? On the contrary, she drops out like so many of her start-up idols, convincing her parents to use her tuition money as the seed for her new company.
The Dropout colorfully depicts Holmes' steep learning curve as she tries to raise venture capital without backing from understandably wary pharmaceutical companies. Her youth and determination will only take her so far. Lying does the rest, and between 2003 and 2015, she and Sunny build a company valued in the billions, even as we witness the frustration within the lab when test results prove so inconclusive they end up secretly using another company's machines to cover up their mistakes.
The actual scientists, including a poignant Stephen Fry as lead chemist Ian Gibbons, are horrified to think actual patients, let alone investors, are falling for this act. But when the curtain of deception begins to fall thanks to a few brave whistleblowers willing to stand up against Theranos' legal might, the series gets darker and scarier, with employees harassed and threatened with their non-disclosure agreements. (That '70s Show's Kurtwood Smith is particularly effective as celebrity lawyer David Boies, and The Unicorn's Michaela Watkins is equally chilling as Theranos' ruthless in-house counsel.)
Among standouts in the superb supporting cast, William H. Macy is a hoot as the dyspeptic Richard Fuisz, patent fiend and thorn in Theranos' side, who felt slighted when family friend Elizabeth didn't let him in on the ground floor and vows to bring them down. He's the first to alert Wall Street Journal reporter John Carreyrou (Ebon Moss-Bachrach) that something fishy's going on at Theranos—but even this skilled investigative reporter is challenged to get anyone to go on the record, especially after the newspaper's owner Rupert Murdoch puts $125 million of his own fortune into the company.
Other high-profile dupes include Henry Kissinger and former Secretary of State George Shultz, played by Law & Order's Sam Waterston with an avuncular grace that begins to shred when his grandson Tyler (13 Reasons Why's Dylan Minnette) goes to work for Theranos and tries to go public about the horrors he sees first-hand. This is not a pretty story, but it's a fascinating account of unchecked hubris, avarice and audacious deceit.  (For more, check out HBO's first-rate 2019 documentary The Inventor: Out for Blood in Silicon Valley.)
Say this about The Dropout: It draws blood.
The Dropout, Limited Series Premiere (three episodes, with the remainder streaming weekly), Thursday, March 3, Hulu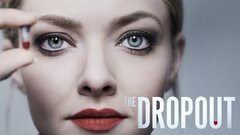 Powered by