'Star Trek: Picard': Patrick Stewart on Reuniting With John de Lancie & Whoopi Goldberg
Jean-Luc Picard (Patrick Stewart) isn't going anywhere (or well, he still has the years he would have had if he hadn't died, thanks to that synthetic twist).
And heading into Season 2 of Star Trek: Picard, the titular character and his crew are on a new journey, one that takes them to the past. To save the galaxy's future, he must enlist old and new friends to confront the perils of 21st century Earth, as well as face the ultimate trial from one of his greatest foes. And we know two familiar faces he'll be encountering: John de Lancie's trickster Q and Whoopi Goldberg's Guinan.
Stewart teases what's ahead in Season 2.
Picard has gotten a second chance at life. How is he handling having that additional time?
Patrick Stewart: He's been given a second chance at lots of things, certainly examining his past is primary in that — and his hopes and expectations, his possible ambitions and are some of them of a romantic nature. There is so much new exposure for him in Picard, which was, for me, the primary attraction when we first talked about it together and it has been and continues to be most enjoyable.
Picard's getting blasts from his past in both Q and Guinan. What do both of those reunions mean for him at this point in his life?
The reunions of the characters were very interesting and very pleasant, but I think for the three of us as actors, they were absolutely delightful. I adore John and Whoopi. They're wonderful people to work with, always unexpected, always new, always real. I wish we could've seen a little more of Whoopi, too. It would've been marvelous, but maybe we will, who knows, somewhere down the road.
What would you say the key relationship is for Picard this season?
With Q and Guinan, of course, because they, from different perspectives, present insights as to who Jean-Luc is. But [Agnes], the character played by Alison Pill has a significant impact. Alison created an extraordinary personality there. Actually I'm going to be mentioning actresses and women in his life quite a lot. Orla Brady who plays Laris, who was an employee on the Picard chateau estate, has a significant role certainly in Season 2. But overall it has been Jean-Luc coming to terms with the truth, the real truth of his childhood and what it meant and how it impacted him and how he wrongly reacted to it.
Star Trek: Picard, Season 2 Premiere, Thursday, March 3, Paramount+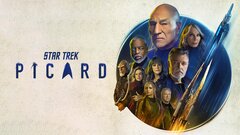 Powered by