'Brain Games' Host Chuck Nice Talks Taking the Show 'On the Road'
Who says television can't be educational? Not Chuck Nice, who hosts Nat Geo's upcoming Brain Games: On the Road.
The traveling season of the popular series, produced by Magical Elves, sees the comedian venture outside the studio for the mind-bending competition. Each of the 20 episodes, airing over five consecutive nights, features two teams going head-to-head and facing through-provoking challenges. Family, friends, and co-workers put their mental toughness to the test in an IQ showdown for the coveted "Brain Games" trophy. The interactive elements of the games make it so viewers can play along at home, increasing their knowledge in the process. It is truly food for thought.
Ahead of the premiere, we piqued the brain of Nice.
This seems like time for Brain Games: On The Road since everyone is venturing out of the house more these days.
Chuck Nice: For the first time we've taken the show out of the studio and put it in the hands of the contestants who actually play life-sized brain teaser puzzles against one another. They are so passionate about it and get so competitive. We had to stay in the greater-Los Angeles area because we shot this kind of at the peak of COVID. We had to make sure we took every safety precaution necessary. We were still in different neighborhoods, but it wasn't like we got to travel across the nation. Hopefully, that will be something we do in the future.
How would you describe the atmosphere in this outdoor setting?
It went from a passive audience to an actively-engaged audience. There was a contained studio audience watching the games happen. We had the only Autobot Transformer set on television. It's an 18-wheeler that turns into a TV set. I call it the Optimus Prime of TV studios.
What does it mean to you to carry on the lineage of this show in a new way?
It's a privilege and honor. I don't want people after the show to go, "I can't believe you ruined Brain Games." I hate to call it a game show. It's a competition show featuring games. The idea is you play these games and have fun and learn something through the process. You have an experiential knowledge of the science we are about to expose to you. It makes you interested in learning the science itself. To me, that is awesome.
What kind of games did you play growing up?
In my family, we played a lot of board games. For a while, I was a crossword puzzle person because my mother was an English teacher. What I liked about crossword puzzles was it tested not only your semantic knowledge but also made you have to look things up when you didn't know them. It was my entire upbringing. My parents never told me anything. [They were] like, "Go look it up." Back then we didn't have Google, my mom bought these things called encyclopedias. The game was, we'd take a certain book letter and test each other on who was smarter. My sister and I would play against one another with my younger brother, who always won. I don't know why I feel weird about telling that story. I feel like people will be like, "You are a nerd." But guess what? I like being a nerd now.
I think being a nerd in 2022 is a lot better. The perception of it.
I say it all the time. Nerds today don't know how good they have it. When I was a nerd, they literally beat you up.
Do you have one or two teams or contestants that stand out to you this season?
There was a young girl on the Awesome Saucers, she was screaming the whole time and so excited. Some of the people in the crew said, "This might be too much." I'm like, "Let it happen." How often do you get to meet somebody who has this high energy? I loved that. I loved the Raise Gospel and The Accidentals Quartet — those teams knew each other. It was very familiar and a lot of fo fun. We were singing and dancing together. They got the essence of what we were doing. Everyone we had on the show was wonderful. They did a great job of bringing in the right people who wanted to play the games and were genuinely curious and very competitive. You put that together, and it makes for very good games.
Did you get a chance to play any of the games?
We had a staging area where all the games were being constructed. I didn't get to play the games with the set pieces because they didn't want me to break anything. It was like an alternate version. I played every game before it was out on the set. So, it was kind of like cheating for me. I knew the science behind the game. They gave me a packet and walked on set knowing who these people were. At the same time, I also try to be the dumbest person in the room. To me, that's the best place to be because you're always going to come out the better for it.
Being inquisitive and asking questions is a great trait. I'll ask you one more. How important is a show like this in today's world?
I think in our current climate, a show like this that is family-oriented, where people can sit down and watch together, and for the kids, it can spark some curiosity [is important]. It's still fun for an adult to watch. It's hitting on so many interest points for different people. It's the reason why I wanted to do this show. My mother has always said, "The only thing I hope for you is one day you get a show that is significant and makes a difference. That's all I want for your career." It happened. This is it.
Brain Games: On the Road, Friday, February 25, 8/7c, Nat Geo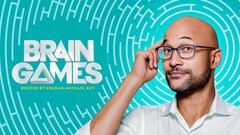 Powered by