'A Discovery of Witches' Finale Sneak Peek: Will Diana Find Matthew? (VIDEO)
Will Diana (Teresa Palmer) and Matthew (Matthew Goode) have a happily ever after as A Discovery of Witches comes to an end? Well, first, she has to find him.
In TV Insider's exclusive sneak peek of the series finale, releasing on Sundance Now, Shudder, and AMC+ on Saturday, February 19, it looks like she does. After hearing the heartbeats of two vampires, including a weak one, Diana and the others head downstairs and find a scene straight out of a horror movie. With the lights above flickering, they see a severely injured Matthew — choose whether or not you want to look closely at his chest — strapped to a metal table.
But Diana realizes something isn't right and carefully approaches him. In pain, he begs, "Kill me." After looking at him and his wounds, however, she walks away. "It's an enchantment," she determines, "unlike any I've seen before." But is she right? Watch the clip above to see what she does next. Was it the right move?
See Also
Plus, a tease of what to expect from the final seasons of 'Better Call Saul,' 'Killing Eve,' and 'The Walking Dead.'
According to the logline of the episode, "as Benjamin tortures Matthew to near death, Diana makes plans to rescue him. Revelations from the Book of Life illuminate the long-hidden secrets of creatures."
Season 3 is based on The Book of Life novel, the third and final installment from Deborah Harkness' bestselling All Souls trilogy. Kara Manley is the executive producer for Sky Studios. Executive producers for Bad Wolf are Lachlan MacKinnon, Jane Tranter, Harkness, Lisa Holdsworth, and Helen Raynor.
A Discovery of Witches, Series Finale, Saturday, February 19, Sundance Now, Shudder & AMC+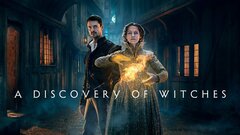 Powered by