'The Resident' Forces Billie to Confront Her Past (RECAP)
Viral
Season 5 • Episode 13
[Warning: The below contains MAJOR spoilers for The Resident Season 5, Episode 13 "Viral."]
Oh, it's going to be so satisfying when Dr. Billie Sutton (Jessica Lucas) takes down her rapist, Dr. Robert Porter (Scott Cohen). (Because that has to happen … right?)
After giving her statement about what he did to her and spending the night Googling the orthopedic surgeon, Billie is surprised when she finds out from Dr. Randolph Bell (Bruce Greenwood) that he still seems to be in the running for the seat on the State Medical Board. "I heard there are multiple ethics complaints against him," she says. "Thought that might get him disqualified."
Then, Lieutenant Governor Beaumont (Raphael Sbarge) calls up Bell to tell him that they can no longer offer him that seat since a complaint against Porter from the doctor who recommended him is a conflict of interest. In fact, he accuses Bell of orchestrating it. That was supposed to be anonymous, Billie tells Bell when he finds her and fills her in. She has to go into surgery, but she's distracted; Dr. Leela Devi (Anuja Joshi) helps her.
After, Dr. Kit Voss (Jane Leeves) calls her to her office and tells her she filled in Bell after Beaumont's call. "I'm so sorry," he tells Billie. "I should have realized this could happen," she says, even though it shouldn't have. Kit then brings up the fact that she said she could prove the charges. "I can, but it means devastating emotional repercussions for the other person involved," Billie explains. "I understand, but if you don't, I fear the repercussions for you could be far worse. Accusers destroy the person accusing them. That's how it works," Kit tells her.
But it's how the day ends that has us the most worried for Billie. Porter comes up behind her as she's walking to her car. "I won't hurt you," he says. "I'm here to warn you. Withdraw the complaint, say you lied for Dr. Bell, you'll never hear from me again." She thinks he's scared. "Withdraw it, or I will destroy it," he warns.
"You can't destroy me. You killed a part of me I can never get back. You can never hurt me again," she tells him. "Don't count on it. I'm fully aware of your mistakes. I'll expose all of them, and I will take away the very thing you love the most: your career," Porter tells her before walking away. Uh-oh. Again, it's going to be so satisfying to watch Billie take him down, but we can't help but worry what will happen when Trevor (Miles Fowler) finds out the truth about his father.
Elsewhere in the episode, Dr. Conrad Hawkins (Matt Czuchry) clears Bell to return to surgery. His latest tests don't show any new lesions, and since he started taking his meds, his MS isn't progressing. Bell feels "better now," but he still worry about operating again. "What about my patients? Is this a risk they should take, too?" he asks. There are surgeons with MS safely operating, and he'll have backup, Conrad assures him. Plus, "the OR needs you, and you need the OR."
But before operating on Jessica's (Jessica Miesel) brother-in-law, Bell fills Leela in and assures her that he's been cleared, but gives her the option of working with another doctor. "Absolutely not," she tells him. "This is a physical challenge, that's it. I have one too." Everyone thought her dyslexia would make surgery dangerous, but she has work-arounds. "You are one of the best," he tells her.
After he calls in Dr. AJ Austin (Malcolm-Jamal Warner) during the operation, Bell finds Conrad waiting outside. It's OK if he wants him back off surgery, Bell says, though he didn't call in AJ due to his MS. "I just wanted to say welcome back," Conrad tells him. "It's good to be back," Bell says. And it's good to have him back.
The Resident, Tuesdays, 8/7c, Fox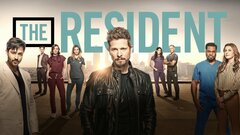 Powered by