'The Resident' Introduces a Painful Blast From Billie's Past (RECAP)
Now You See Me
Season 5 • Episode 12
[Warning: The below contains MAJOR spoilers for The Resident Season 5 Episode 12 "Now You See Me."]
That moment that Dr. Billie Sutton (Jessica Lucas) takes after seeing the face of Dr. Randolph Bell's (Bruce Greenwood) competition for a seat on the State Medical Board? She's going to need more of those after her decision in the latest episode of The Resident — and we just hope she chooses to lean on someone (such as Matt Czuchry's Dr. Conrad Hawkins or Jane Leeves' Dr. Kit Voss).
It begins when Bell drops by Kit's office, to see her and inform her he's on the shortlist for that seat. (His doctors at the Mayo Clinic said he could return to surgery, with treatment stopping his MS symptoms, but he's not there yet.) "We all need to be more accountable. It's been a long career. I've seen mistakes happen that shouldn't have, and you know I've made them myself and I just would like to try to make up for that," he explains of the possible career move. "If I get it, I can fight for patients' rights without having a patient's life in my hands." But Kit doesn't think he should give up on the OR just yet.
When Bell goes to meet with the lieutenant governor, he runs into the other candidate: Dr. Robert Porter (Scott Cohen), Georgia's highest-billing orthopedic surgeon. He just so happens to go way back with the lieutenant governor, so that doesn't bode well for Bell. But there's also something insincere about Porter, from his "at this point in my life, I just want to give back" to him charming the secretary.
It's when Bell goes to Billie for a letter of recommendation for the seat that the reason for that reveals itself. She's happy to write one — "Georgia could certainly use more doctors willing to fight for patient safety," she says — and even more so once she finds out who his competition is. "He's a powerful guy," Bell says. "He's very slick." And when he tells her his name, her reaction says it all.
After taking that moment to herself, Billie goes to Kit's office and tells her she needs to talk to the State Medical Board. "Dr. Bell asked me to write him a recommendation for it. He told me Robert Porter is angling for a seat on the board," she explains."He has to be stopped. He's a pedophile. … He raped me when I was 13 years old." When Kit walks around her desk, Billie steps back. "It was a long time ago," she continues. "I survived. My feelings aren't what matters right now. What matters is there's no way in hell Porter should be allowed to judge the moral feelings of other doctors."
But as Kit knows, Porter will deny it. When it comes to proof, "it's complicated," is all Billie says. "There's another person involved that I can't bring into this. It will have to be Porter's word against mine." So how soon before Trevor (Miles Fowler) finds out the truth about his father?
Kit talks to the lieutenant governor and gets as much a guarantee of Billie's anonymity as she can. With that, Billie is set to testify to the lieutenant governor and the Board at 2 p.m. that day, but Kit warns her that Porter is powerful in the medical community. What Billie has on her side, however, is that other ethics complaints have been made against him. Maybe they'll be taken seriously after her testimony. All we know is this is the beginning of quite the arc for Billie, and Lucas is already showing it's probably going to be her best work yet on the Fox drama.
Elsewhere in "Now You See Me," Dr. Devon Pravesh (Manish Dayal) points out to his girlfriend, Dr. Leela Devi (Anuja Joshi) that her plan to be double board certified in neuro and cardiothoracic surgery may be a bit of a stretch. There's a reason no one's done that before. It would take eight years, and he's concerned she'll get burned out. "Can you please just support me?" she asks. "I support you in every dream you want to chase as long as it's not impossible. Leela, this is literally impossible," he says. "Even for the most talented surgical resident in the world, and I'm ready to say that that is you."
Plus, the staff continues to push back on Dr. Kincaid Sullivan's (Kaley Ronayne) refusal to open up. (She won't even share Conrad's umbrella in the pouring rain!) As she and Conrad treat a young girl who was found on the side of the road, he comments, "she's choosing not to speak to feel safe. I'm seeing a lot of that recently." And Cade's later remark to Billie that the girl is "guarding some kind of secret" and they "need the truth to help her" is also true of both women.
At the end of their shifts, Conrad comes right out and asks if Cade's in trouble. "No," she tells him. "I'm fully in control of my past, present, and to some extent, future. If I need help, I will ask." But "will you?" he asks. (Probably not.)
The Resident, Tuesdays, 8/7c, Fox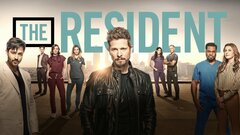 Powered by