'Cheaper by the Dozen': The Bakers Are Back in First Look at Disney+ Reboot (VIDEO)
Cheaper by the Dozen is getting the Disney+ reboot treatment as the streamer unveiled a first look at its upcoming movie starring Gabrielle Union and Zach Braff.
Set to premiere on March 18, the film reimagines the Baker family as a blended family of 12 that includes all of the hilarious chaos viewers have come to know about the IP over the years. The latest film is a fresh take on the 2003 hit that originally starred Steve Martin and Bonnie Hunt as the parents in charge.
Now, Zoe (Union) and Paul (Braff) are navigating a hectic home life, while also attempting to manage their family business in this latest iteration. "We turned our two families into one," Paul explains in the teaser, below.
Like any parents, Zoe and Paul are faced with the day-to-day challenges of hustling to get the kids ready when you oversleep and packing 10 lunches on the fly. "I really feel like there were a few extra children in there," Zoe says after passing off the final lunch box. "I didn't recognize some of them," Paul says, acknowledging the chaos.
Despite all of the trials and tribulations they might face though, this is one family that has each other's backs entirely as teased in the funny and heartwarming trailer, below. Based on the book by Frank Bunker Gilbreth Jr. and Ernestine Gilbreth Carey, Cheaper by the Dozen is directed by Gail Lerner and written by Kenya Barris and Jenifer Rice-Genzuk.
Barris serves as a producer, while Shawn Levy, Union, Brian Dobbins, and Donald J. Lee Jr. serve as executive producers. Joining Union and Braff in the movie are Erika Christensen, Timon Kyle Durrett, Journee Brown, Kylie Rogers, Andre Robinson, Caylee Blosenski, Aryan Simhadri, Leo Abelo Perry, Mykal-Michelle Harris, Christian Cote, Sebastian Cote, and Luke Prael.
Don't miss the fun when Cheaper by the Dozen arrives this March on Disney+ and in the meantime, get a first look, below.
Cheaper by the Dozen, Movie Premiere, Friday, March 18, Disney+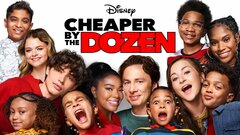 Powered by