Who's the Real Anna Delvey?: The Backstory of 'Inventing Anna'
Netflix calls her the "Instagram-legendary German heiress who stole the hearts of New York's social scene—and stole their money as well." But the question of who Anna Delvey really is has fascinated the American public ever since Jessica Pressler's New York magazine article "How Anna Delvey Tricked New York's Party People" went viral in 2018.
Now Shonda Rhimes is taking a shot at the question with Inventing Anna—the first series the Grey's Anatomy mastermind has created under her blockbuster Netflix deal—with Ozark's Julia Garner in the title role.
"Is Anna New York's biggest con woman or is she simply the new portrait of the American dream?" Netflix adds, hyping up the nine-episode series debuting February 11.
So, what do we know about the real Anna Delvey?
The 31-year-old was born Anna Sorokin in Russia, but she grew up in Eschweiler, Germany, before leaving for Paris at age 19 to study fashion, according to The New York Times. That's where she took on her alias as she worked for the fashion magazine Purple. She then traveled to New York, working for Purple's office in the city for a time before quitting her job.
And it was in the Big Apple that Delvey started faking a glamorous lifestyle, living in fancy hotels, wearing designer clothing, rubbing elbows with the upper crust. She got a bank employee to give her $100,000, she bilked creditors out of more than $200,000, and she even tried to get a $25 million loan from a hedge fund, as jurors eventually decided.
Eventually, though, the law caught up to her. She was arrested in July 2017 after failing to pay bills at New York City's Beekman, W New York, and Le Parker Meridien hotels.
In May 2019—weeks after she was convicted of second-degree grand larceny, theft of services, and one count of first-degree attempted grand larceny, among other charges—Delvey told the Times she wasn't sorry. "I'd be lying to you and to everyone else and to myself if I said I was sorry for anything," she insisted, explaining that she had intended to pay back her creditors. "I regret the way I went about certain things." (She also told the newspaper that she was "not a good person.")
That same month, Delvey was sentenced to four to 12 years in prison, but she was released on good behavior in February 2021. Her freedom only lasted six weeks, however: Delvey was taken into U.S. Immigration and Customs Enforcement custody that March for overstaying her visa.
In a letter from custody that Insider published this month, Delvey said that her visa overstay was "unintentional and largely out of my control." She also said that she's appealing her criminal conviction—and that she tested positive for COVID-19 last month.
And even though she talked with Rhimes for Inventing Anna—and received $320,000 for the rights to her story, with most of that money going to restitution and state fines, per Insider—Delvey says she's not interested in watching the final product.

"Even if I were to pull some strings and make it happen, nothing about seeing a fictionalized version of myself in this criminal-insane-asylum setting sounds appealing to me," she wrote. "While I'm curious to see how they interpreted all the research and materials provided, I can't help but feel like an afterthought, the somber irony of being confined to a cell at yet another horrid correctional facility lost between the lines, the history repeating itself."
In a recent interview with Town & Country, Garner said she visited Delvey in prison outside Buffalo, New York. "She's actually really sweet," the actress revealed. "She was extremely charming. She's very gentle. But then her voice gets less soft-spoken when she wants something," the actress recalled.
See Also
The cast and creators of the Netflix series talk Garner's uncanny portrayal of faux heiress Anna Delvey and try to figure out what makes the con artist tick.
Garner added that she wanted to talk with Delvey to see if the subject of Inventing Anna "had any remorse about what happened, or time to reflect." But Delvey told her that she didn't have much time to think, between tailor classes and lessons in "stupid culinary arts."
"I kind of love that about her, in a sick way," Garner said. "She's in a full jumpsuit saying, 'I'm obviously not going to make myself food when I get out of jail.'"
Inventing Anna, Series Premiere, Friday, February 11, Netflix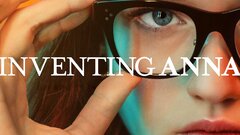 Powered by