'Sister Boniface': Crime-Solving Nun Gets the Spotlight in 'Father Brown' Spinoff
She's a groovy gal in 1960s England. She drives a Vespa, has a lab where she makes wine and tests forensic evidence. She even turned down a job offer from MI5. Her outfit of choice? A Catholic nun's habit.
Meet the quirky title character of Sister Boniface Mysteries, played by actress and comedian Lorna Watson. The amusing new series, which debuts on BritBox February 8 with 10 episodes, follows the spirited sister as she helps the police catch killers in the appropriately named community of Great Slaughter, a small town with a large body count.
The character first came to life a decade earlier in "The Bride of Christ," a Season 1 episode of cozy mystery series Father Brown. In it, the wine-making, Agatha Christie-reading nun delighted viewers as she helped Mark Williams' titular priest solve two murders.
Father Brown executive producer Will Trotter wanted to do more with Watson and her character. He just had to figure out how. "Sister Boniface was such a joy, so funny, and Lorna's performance was so outstanding that we just thought, 'We can't let this go,'" says Trotter. "But how to develop a vintner character to be part of a crime show — that took a bit of thinking."
Trotter assumed there would be time to create the spinoff once Father Brown ended — he figured it would last about three seasons — but its popularity at home (on the BBC) and abroad (on PBS and streaming service BritBox in the U.S.) has kept it alive for nine seasons and 100 episodes. Eventually Trotter pitched the idea for a Sister Boniface show to BritBox, and Jude Tindall, the writer behind that memorable Father Brown episode, got to work creating Sister Boniface Mysteries.
Watson was stunned to be offered the role out of the blue. "My agent called and said, 'This is odd, brace yourself…'" she recalls. "I honestly couldn't believe it. It's been a very unexpected surprise."
Both series are playful midcentury mysteries, but Trotter describes Sister Boniface as a procedural, unlike its predecessor. While Father Brown has a knack for getting suspects to confess their sins, Sister Boniface is the police scientific adviser, a woman with a brilliant mind and a Ph.D. in forensic science. The lab where she makes wine and tests evidence has beakers of bubbling liquid as well as a cross on the wall.
"Her faith is incredibly important to her, but forensics are too," notes Watson.
Sister Boniface's crime-solving colleagues include a pair of forward-thinking detectives, Inspector Sam Gillespie (Max Brown) and Sergeant Felix Livingstone (Jerry Iwu), who arrives in Great Slaughter from Bermuda due to a clerical mix-up. Fashionable local newspaper editor Ruth Penny (Miranda Raison) and Constable Peggy Button (Ami Metcalf) round out the main cast, and Williams even makes an appearance as Father Brown in an episode called "My Brother's Keeper."
The show was filmed last summer in England's Cotswolds region, meaning Watson spent time perspiring underneath her habit. "It wasn't too hot a summer," she says, but "any overcast day, I was absolutely over the moon." And she acquired an unusual suntan: "a rectangular strip a completely different color on the front of my face."
Learning to drive the Vespa presented its own challenges. "It was quite feisty," Watson declares of the motor scooter. "I did eventually get the hang of it. I managed to do an unintentional wheelie at one point, and the guy who was in charge of the bike said, 'I actually didn't know you could do that.' But it felt like just the right thing for her to drive."
With Father Brown, Sister Boniface and the vicar of Grantchester, television has a surprisingly good supply of religiously minded sleuths. Trotter thinks it's because they appeal to our better selves. "They're detective shows, but they're also morality tales," he says. "A lot of other shows, they're just cops and robbers, whereas with this, there's a whole backdrop of humanity and spiritualism — people wanting to be good, to have a better world."
Sister Boniface Mysteries, Series Premiere, Tuesday, February 8, BritBox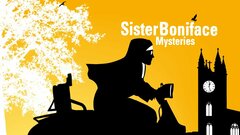 Powered by