Superstar AJ Styles Takes Pride in Helping WWE's Next Generation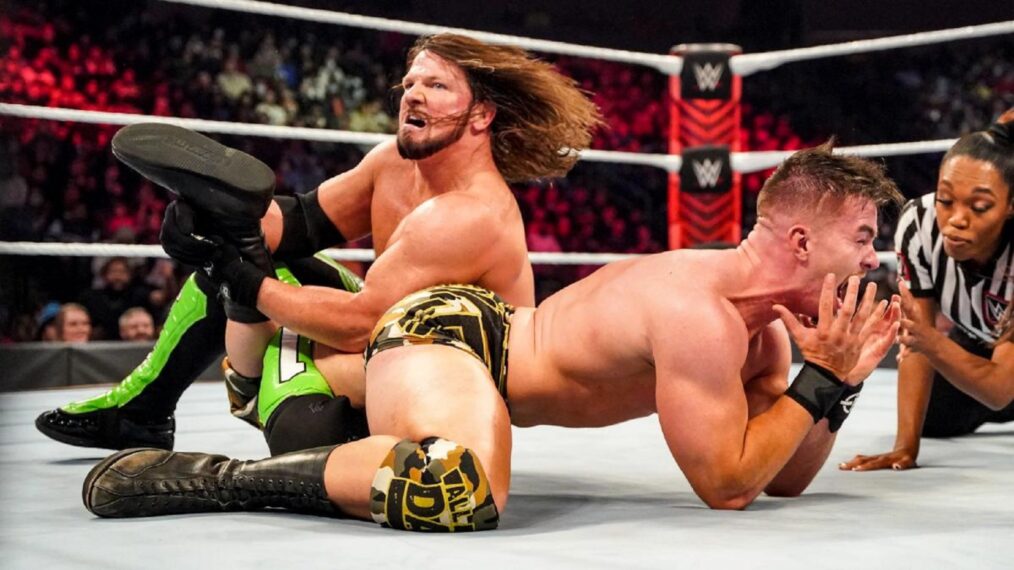 It has been more than six years since AJ Styles shocked the WWE Universe by entering the 2016 Royal Rumble. Since then the "Phenomenal One" has won top championships, headlined shows, and even faced The Undertaker in his retirement match at WrestleMania. These days the veteran is finding joy in giving back to the business by helping the future along.
"There is a lot to be learned from the guys who are getting older," Styles says. "There is a process in which you really grasp how to do a little bit of everything as you get older. It's that old saying where less is more. The opportunity to teach that to the younger crew is fun for me."
Here, the Raw superstar chats about working with young talent, his trip to NXT 2.0, and his dream match with a certain Hall of Famer.
You really turned your focus to helping younger talent, most notably Omos. How do you feel he has progressed?
AJ Styles: I think the sky is the limit, literally, with him because he is so huge. He is one of those things you have to see to believe because of how big this human being really is. I think there is a lot for him to accomplish. He is young. He has the opportunity. He is getting the knowledge to be something special. I'm looking forward to seeing how much he progresses in the next couple of years.
You had a chance to go down to NXT 2.0 and work with Grayson Waller. What did you make of that experience?
Let me just say this. A long time ago, years and years ago when I first started, Vince [McMahon] and I were talking and I said, "Your company…" He corrected me and said, "No, our company…." I've taken it to heart. I want to help as much as I can with this company that I'm a part of. Being able to go down to NXT and work with a guy like Grayson Waller was a treat for me. If I can help in any way progress a career here in WWE, that's what I want to do. If I can somehow help make it better for everyone here, that's what I want to do. They said, "We'd like you to work with him." I said, "Sure. Let's do it."
Grayson is someone like others who are being thrown into the deep end where it's sink or swim.
I think about Kurt Angle and how awesome he was. How did he get great so quickly? It was getting the opportunity to work with guys like The Undertaker, Triple H, Shawn Michaels. That opportunity to squeeze out whatever knowledge you can get out of them. You can't beat it. We need more of that.
One of the fun things about this year's Royal Rumble is seeing Mickie James enter as the Impact champion. Unheard of years ago. Do you think this will be the start of further collaboration with other companies?
I think it all depends. First of all, I'm assuming we are only going to work with people who worked with WWE before, because we know what to expect from them. Mickie James is one of those, a great talent. It's cool to see her bring the Impact championship to WWE with her. It's good for everyone.
How is it making that transition back into the singles ranks again?
To be honest with you, I kind of felt even though I was in a tag team recently that I was still in singles matches. Getting back there and wrestling talent like an Austin Theory is a pleasure for me. I genuinely enjoy what I do. Being in that ring and between those ropes is fun.
Here we are on the road to WrestleMania and you've namedropped Edge in the past as a dream opponent. With him coming out of retirement in 2020, what was once impossible is now possible.
I had the opportunity to wrestle The Undertaker at WrestleMania. It was something I did not think I was going to get the chance to do. I was jealous of guys before who had the opportunity to do it. Edge is another of those guys. I didn't think I would have this opportunity. I'd really like to see it happen. But I'm a team player. Whatever comes up when it comes to WrestleMania, as long as I'm there I'm happy.
WWE Raw, Mondays, 8/7c, USA Network
WWE SmackDown, Fridays, 8/7c, Fox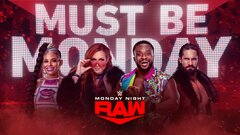 WWE Raw
where to stream
Powered by