'Tehran' Season 2: First Look At Glenn Close In Apple TV+ Spy Thriller (PHOTO)
Season 2 of espionage thriller Tehran is set to return to Apple TV+ on Friday, May 6, 2022, with the first two episodes. And we've got a first look at Glenn Close, who joins the series.
The streamer announced the premiere date of the International Emmy Award-winning series on Thursday alongside an image from the upcoming season. The second season will debut with the first two episodes, followed by new weekly installments each Friday during its eight-episode run through June 17, 2022.
Tehran stars Niv Sultan as Tamar Rabinyan, a Mossad agent who goes on a dangerous undercover mission in Tehran that puts her and everyone around her in serious jeopardy. Close will play a British woman living in the trouble torn city. The series also stars Homeland alum Shaun Toub, Gangs of London actor Shervin Alenabi.
Created by Moshe Zonder, Omri Shenhar, Dana Eden, Daniel Syrkin, and Maor Kohn, the Israeli spy series debuted on Israel's Kan public channel in June 2020 before premiering globally on Apple TV+ in September. Syrkin serves as director on the series, while Shenhar and Zonder handle writing duties. Executive producers are Eden and Shula Spiegel for Donna and Shula Productions, Alon Aranya for Paper Plane Productions, Julien Leroux for Paper Entertainment, Peter Emerson for Cineflix Studios, and Zonder, Shenhar, Syrkin, and Eldad Koblenz for Kan 11.
In November, Eden accepted the award for Best Drama at the International Emmy Awards and spoke of the human element behind the spy drama. "I want to say that Tehran is not only an espionage series. It's all about understanding the human behind your enemy and we're doing it every day on our set," she said (via The Jerusalem Post).
See Also
She will play a British woman in the hit Israeli thriller.
She continued, "We're now filming our second season and we work with Iranian actors from all over the world, Iranian refugees that just fled the current regime in Iran, and we work in collaboration, through love, and actually we found out that we have a lot in common. So I think it gives a hope for the future, and I hope that we can walk together, the Iranians and the Israelis, in Jerusalem and in Tehran, as friends and not as enemies."
Tehran, Season 2, Premieres, Friday, May 6, 2022, Apple TV+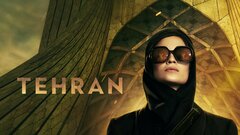 Tehran
where to stream
Powered by