'Abbott Elementary' Star Chris Perfetti Talks Shining an Overdue Light on Educators
Abbott Elementary continues to delight viewers each passing week on ABC as a group of educators at a public school fight to give their students the best possible experience while also being filmed by a "documentary crew."
While the mockumentary catches all of their hilarious endeavors, challenges, and triumphs, each professional at the center of this series offers up their own unique personality, including Chris Perfetti's Jacob Hill. The eager and over-achieving teacher just wants to make friends and make a difference in the young students' lives. In the most recent episode, Jacob furthered his efforts by taking on the lead role for Abbott's short-lived Gifted Program.
Below, Perfetti opens up about teaching on TV, Abbott Elementary's ratings success, what's next for Jacob, and much more.
Congratulations on the show's success, how were you first introduced to the project?
Chris Perfetti: It's been surreal to hear how it's resonating with people, but that feels very good. Abbott came to me a couple of years ago and Jacob was first described to me by Quinta [Brunson] as the best friend that you didn't know you needed. And she was very upfront about describing all of his attributes and flaws, saying that he's an incredibly ferociously loyal and well-intentioned person, but often at his own demise. And I think of him now as a social puppy. He's an overachiever and a nervous wreck and a Shakespearean clown.
Considering Jacob's attributes, was there any part of him that you could relate to?
I think we are the perfect mix of the same and different. And there are facets of his personality that I very much admire and that I also am very much trying not to be. I think one of the things I admire about him is Jacob speaks before he thinks, and I tend to be the total opposite. I would rather obsess over an email for a day before hitting send. So, I feel like that's something that I'm learning from him is to not think and just do.
Jacob definitely says some interesting things which is great when it comes to a mockumentary style show like this one. Are you encouraged to engage with the camera and look down the lens or does it differ from character to character?
Yeah, for sure. If it were happening on another show, you might start to worry. We're definitely encouraged to do that. It's this weird amazing symbiosis that makes the show so enjoyable for me. And there's this ballet going on with our camera operators and our directors and the cast. It's never explicitly written into the show, but it's this thing that we feel out. And some characters are more invested in the documentary that's being made about the school and some are less so. It's one of the fun things about our show, it really changes episode to episode.
You mentioned that sometimes Jacob's personality can serve to his own demise. Would you say that's the case with taking on the Gifted Program or other tasks at Abbott?
I feel like we would not be doing good by our show or Jacob if his ambitions were not always to his detriment. I think you can, without giving too much away, safely bet on Jacob falling on his face and putting his foot in his mouth. But you could also bet on him competing. I think the genius of this character and especially the relationship with Quinta's character, Janine, is that I do really feel supported in the writing that these people think that their task is no less than saving the world. It's not just about getting through the day. I really think that Jacob thinks that anything is possible and that by teaching the Gifted Program or learning how best to communicate anything to his students will save the world.
Jacob has his little Dead Poets Society moment when he stands on the desk in front of the Gifted Program students. What was that like and is it strange playing a teacher? Does it bring up any memories from school?
When I first read this episode and the not-so-subtle nod to Dead Poets Society — which growing up was one of my favorite movies, not because it necessarily pertained to school, but all of the greatest actors are in it and it's such a fantastic movie — so I was so pumped. But playing a teacher, it's really been this cathartic moment for me. It's very fulfilling and I feel like I have a lot to bring to it because we've all had that experience.
We all had people who changed our lives. We all were there. But on the whole, grade school was a bit of a mixed bag for me. I knew early on that I was going to have to make it work for me. I knew that there were resources there. And I knew that there was gold to be mined in teachers. But I also really knew that regurgitating facts that didn't really interest me at the time was going to be hard. And so school was always a bit of a struggle for me. So, coming back around and having this moment where I'm in school playing a teacher is very surreal and just rad. Because I realize now with this perspective, the ways that it changed me. Now, it's a place that I want to be.
When it comes to Jacob's fellow teachers, he's always looking to make new friends, despite already being connected to Janine. What can you tease about any upcoming connections he'll be making?
I think another bit of genius of our show is that the characters are a real rag-tag group of people. We're such a weird motley crew. And all of the characters are really very different and have a different perspective on where they're at in their life and where they want to be. So in each episode, we can shuffle that deck and you see how two of those possibly very different people get on together. What I loved about the show was I really felt like I flushed out the relationship between everybody in the show. In next week's episode, it really dives deep into who Barbara and Jacob are together and what they bring out in each other. Quinta really mixed it up, in each episode, you get to see a different iteration of that.
See Also
A Detroit automaker's C-suite and an inner-city Philadelphia public school are the settings for two promising new network sitcoms
The show has broken ratings records on ABC and is now in the conversation with other successful mockumentary comedies like The Office and Parks and Recreation among others. What does it mean to see the show have this kind of reception and success?
I'm not going to pretend being discussed with those shows that you mentioned or being held to those standards is not humbling. But at the end of the day, I have always taken a position that that's not something I can control. The only thing I can control is whatever Jacob needs from me. And so it feels so good to know that the show is resonating with people. I knew going into it that the universality of it was going to be an entry point, but the combination of that and what I will call Quinta's unbridled genius and the genius of our producers and writers are just great.
I hope that we are giving people a place to laugh and to see themselves. That's why I'm doing it. I hope that we're giving people a cast of characters that they haven't seen before, and I just hope that we're making people feel good because that's really important right now.
Abbott Elementary, Tuesdays, 9/8c, ABC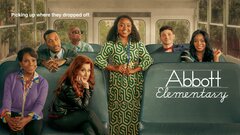 Powered by