'Becoming Elizabeth': First Look at Alicia von Rittberg & Tom Cullen (PHOTOS)
Starz is telling the story of England's most iconic Queen before she took the throne in its upcoming series.
Becoming Elizabeth stars Alicia von Rittberg as Elizabeth I as an orphaned teenager who thinks she's an adult and old enough to play the games that she is thrown into after her father's death. Following King Henry VIII's death came "a dangerous scramble for power" with his surviving children "pawns in a game between the great families of England and the powers of Europe who vie for control of the country."
Starz has released the first photos (above and below) of von Rittberg and Tom Cullen. Cullen plays Thomas Seymour, described as "simultaneously charming, playful and funny whilst being hotheaded, ambitious and possibly dangerous — he expects the spoils that ought naturally to fall to the King's uncle."
The world of this new series is described by Starz as "visceral, dangerous, and very bloody." It takes place when every man or woman of the court is on the wheel of fortune. They could end up in a position of great power one moment, then the executioner's block the next. With judgements rendered quickly, no one's safe.
The cast of Becoming Elizabeth also includes Romola Garai as Mary, Oliver Zetterström as Edward, Jessica Raine as Catherine Parr, John Heffernan as Duke of Somerset, Jamie Parker as John Dudley, Jamie Blackley as Robert Dudley, Jacob Avery as Guildford Dudley, Alexandra Gilbreath as Kat Ashley, Leo Bill as Henry Grey, Bella Ramsey as Jane Grey, Ekow Quartey as Pedro, Alex Macqueen as Stephen Gardiner, and Olivier Huband as Ambassador Guzman.
See Also
Plus, find out who is playing who in this untold story about the iconic Queen.
Anya Reiss created and wrote the series and executive produces with The Forge's George Ormond and George Faber. Lisa Osborne is a producer.
Becoming Elizabeth, TBA, Starz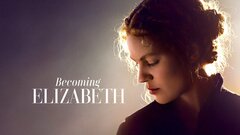 Powered by