'Vikings: Valhalla' Creator on What's Different About These Adventurers
Fierce battles and fiercer friendships power the 11th-century Norse saga Vikings: Valhalla, a follow-up to Vikings (2013–20) set more than 100 years after the events of that History and Prime Video series' finale. War, love and loss shape a brave new generation of adventurers: the brilliant sea captain and explorer Leif Eriksson (Sam Corlett); his fearless, devout pagan sister Freydis (Frida Gustavsson); and the ferocious fighter and prince of Norway, Harald Sigurdsson (Leo Suter).
Together, the trio "represent all aspects of a Viking; they lean on each other and appreciate each other," says creator Jeb Stuart, who cowrote the gold standard for action, Die Hard. Stuart did three months of research before hitting the keyboard because "I needed to really know the difference between [original series creator] Michael Hirst's Vikings and my Vikings, who are becoming Christianized."
Tension between these new converts and the old pagans pervades the story, starting with the explosive premiere. The siblings are on a mission to kill a Christian Viking who brutalized Freydis because of her spiritual beliefs. To find him, they undertake a perilous voyage to Kattegat, Norway, from their native Greenland.
During a massive storm on the North Sea, towering waves—walls of water, really—nearly sink the duo's dragon boat and its crew of loyal friends. Corlett explains what keeps the brother and sister alive, on sea and land: "[They are] from a small community and harsh environment. They had to learn to read the world around them, rely on each other to survive."
The arrivals are noticed by Harald, future king of Norway and a leader in the massive army assembled by Denmark's King Canute (Bradley Freegard) for its own purposes of revenge. The legion will sail for England, hoping to behead the king who ordered the massacre of all the island's Vikings, one of them Harald's half-brother.
The looming clash seems to vanish from Harald's mind when he catches sight of Freydis. She's ready for company after five weeks on a boat. Plus, Harald has a bathtub (medieval luxury!), and a romance begins.
Viking women are blessedly not shy in this show, just one carryover from the original (you needn't have watched that to enjoy Valhalla, but fans will cheer references to the legendary Ragnar Lothbrok and others). This chapter was shot at the same locations in Ireland, south of Dublin. Production designer Tom Conroy is back and has expanded Kattegat and its iconic Great Hall. After Freydis takes action against her assailant (to put it mildly), she must remain there, while Leif must join Harald's forces. (Stuart recalls discussing Freydis' violent revenge scene with director Niels Arden Oplev: "We almost got thrown out of the InterContinental hotel in Dublin because we were acting it out! Suddenly the bartender came around and said we were disturbing the other patrons.")
Leif—son of infamous outlaw Erik the Red—is soon indispensable to Viking military success. His plan for a land and water attack on London, Stuart hints, will have viewers "remembering their nursery rhymes" about a certain bridge. The Greenlander and Harald become closer allies with each move against hotheaded new young King Edmund (Louis Davison) and his coolly strategic stepmother, Emma of Normandy (Laura Berlin).
The two men make for an interesting contrast. Stuart says he prepped Corlett by telling him, "Leif Eriksson is a laconic hero, like Robert Redford or Clint Eastwood." Harald, meanwhile, is a Berserker, a dangerous warrior who fought in a near-fury (hence the word berserk). Suter relished the fight scenes, saying, "It can get quite scrappy, but that's part of the joy of it. You certainly get a glimpse of how dirty and bloody, crowded and chaotic—and terrifying—these battles would have been in real life."
While the London strategies are playing out, Freydis makes a pilgrimage to the holy city of Uppsala, Sweden. The moment she arrives at the temple is breathtaking. "It was at dusk," Gustavsson recalls, "and everywhere was fires, totems and the iconic painted and robed priests and priestesses chanting—I had goose bumps."
Freydis has a vision of the Seer (John Kavanagh), the only original Vikings character in the sequel. Once she sees her destiny, she's unstoppable. Gustavsson says, "She is stubborn and loyal to what she believes is just—a trait that sets big things in motion, not just for her, but for those she loves." Her brother Leif and her lover Harald are ready for the adventure.
Vikings: Valhalla, Series Premiere, Friday, February 25, Netflix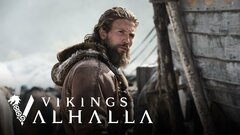 Powered by