'Young Justice' Lives! Warner Bros. Animation Announces Third Season of Superhero Series
Justice is being served again! Warner Bros. Animation announced Monday that production has begun on a third season of the superhero series Young Justice. The show, based on DC Comics characters, originally ran for 46 episodes from 2011 to 2013 on Cartoon Network. A network partner and premiere date have yet to be announced.
Young Justice showcased the junior heroes of the DC Universe—including Robin, Aqualad, Kid Flash, Miss Martian, Artemis, Superboy and Nightwing—in an intricate, delicately plotted adventure. The show earned a loyal fanbase for mature storytelling, surprising plot twists, sleek, colorful animation and a pantheon of DC characters, including the young heroes' mentors, Superman, Batman, Wonder Woman, Black Canary, Green Arrow, Aquaman, Red Tornado and more. Young Justice's popularity has surged in recent years thanks to Netflix viewers and a passionate #RenewYoungJustice campaign on social media.
Original showrunners Brandon Vietti and Greg Weisman are both returning to helm the reboot. No word yet on whether the original voice cast will be involved. Per the studio, the new season "promises new twists, turns and dangerous new threats for the team, but most importantly, the opportunity for fans to finally continue the adventures of some of their favorite superheroes." Fans can visit YJS3.com to sign up for updates.
Warner Bros. released this promotional poster to tease the show's return: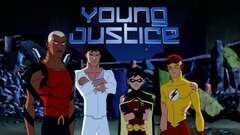 Powered by