'Supergirl': 5 Things We Loved About This Week's Episode
Spoiler alert! This story features storyline info and plot developments from Monday's episode of Supergirl. You have been warned!
National Coming Out Day may have been last month, but National City had a coming out tonight that has been weeks in the making and has the makings of a super storyline that could reroute one character's course to possibly sunnier skies. At the same time, a family tie was exposed, a new bromance began brewing and Kara (Melissa Benoist) discovered that she couldn't harass Mon-El (Chris Wood) to straighten up and fly right at CatCo. Here's a rundown of the bigger bits from the hour of superpower.
Mother Luthor!
We live for those last-minute Supergirl shockers and this week, they dropped a doozy on us: The crazy Cadmus lady played by Brenda Strong is Lena and Lex Luthor's mother! "Her name is Lillian," reveals executive producer Andrew Kreisberg, adding that this twist means big stuff for Katie McGrath's character. "I love Lena," he admits. "Just like Kara, she was also adopted. But Kara was adopted by the Danvers, the most loving family you could find. And Lena was adopted by these monsters." While that explains the villainous life led by Lex, "who is serving like 800 life sentences in Striker's Island," Kreisberg cautions that fans should "wonder how much influence she has had over Lena or if Lena has overcome that upbringing."
Benoist feels Kara should be just as wary. "I mean, should anyone ever trust a Luthor?" she jokes. "That's the looming question overall. Lena and Kara have such an awesome relationship and I love the scenes with Katie…she is awesome and perfect in that part. But it's inevitable. I don't think Kara is ever going to be able to truly know if she's being honest or if it's something she shouldn't be suspicious of. But there is a true friendship there and a mutual respect."
KarMon? Monkara? ElEl?
It may be too early to start shipping just yet, but even Kreisberg cops to there being something between Kara and newly arrived Daxamite hottie Mon-El. "You know, their chemistry is undeniable and they definitely have a bit of Sam and Diane going on," he says with a laugh. "Once we saw the banter and chemistry that we pulled off in episode 5, we have leaned into that…[and] we will definitely be seeing how that plays out moving forward."
Lena Luthor for the Winn?
Again, we weren't the only ones to notice the sparks here. As soon as the DEO's adorable techie Winn (Jeremy Jordan) and La Luthor paired up to fix a "black-body field generator" under that table during the Cadmus attack, it was clear that our boy may have met his tech-geek match. "They have chemistry, those two!" agrees Kreisberg. "We might be seeing more of Lena and Winn in the upcoming months."
Illegal Guardian
Now that James (Mechad Brooks) has found his heroic side, the writers are giving him a sidekick. In Winn! "That has been the most surprising relationship that has come out of this season," says Kreisberg, who credits fellow executive producer Greg Berlanti with "the great idea to turn James into Guardian," the DC Comics vigilante. "Once we did that, it suddenly gave James and Winn a life that we weren't expecting, and it has provided huge dividends."
Noting that "the unlikeliest duo and friends" are both "the rejected romantic interests of the main character," Kreisberg previews that the guys will "find a common ground in staging this two-man war on street crime. It's the most unexpectedly joyful thing we have gotten to write." Just don't expect everyone in National City will share that joy once news of James' new hobby gets out. "Some are surprisingly supportive, others are not."
Come out, come out, whomever you are!
It was teased this summer that someone in the Berlantiverse would be coming out of the closet and as soon as soon as NCPD detective Maggie Sawyer (Floriana Lima) got sassy with Alex (Chyler Leigh) during the President's visit last month, we knew it was on. And while she didn't swing the door wide open, Kara's adoptive sister did take a huge step by almost admitting her feelings for Maggie in the episode's most emotional moment.
"How amazing was she in that last scene in the bar?!" raves Kreisberg. "Next week is a really big episode…Alex is going to come out to Kara. It's really exciting for us as storytellers and as people who love this character, who want the best for Alex Danvers."
So why Alex? "She has always been one of my favorite characters because there has always been this twinge of sadness about her," he continues. "We're really finding out why that is this season and the notion that Alex can lead a fuller, more complete and happier life is really exciting for the people who do care about her."
Still, it won't be all rainbow flags and pride parades for Alex after she tells Kara, says Kreisberg. "When Kara finds out, Alex at first mistakenly thinks Kara isn't OK with it because she is being a little bit weird. But the truth is that Kara feels awful, she feels that her secret [overshadowed] Alex and that they spent so much of their childhood keeping Kara's secret and making sure she was OK that there wasn't enough room for Alex to figure all of this out about herself."
Now that they're all grown up, however, it's time for Alex to become the hero of her own story. "Season 1 serviced the purpose to get Kara on solid ground herself," says Benoist. " [This year], Alex is kind of going off on her own path and learning something about herself, and I think Kara will be there with just an open mind and an open heart. You know, those two are inseparable. Their bond is unbreakable. So whatever happens, Kara's going to be there no matter what."
And that's really what makes her so super.
Supergirl, Mondays, 8/7c, The CW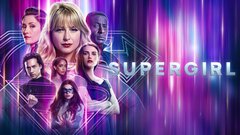 Powered by