Carole King & James Taylor Trade Off Signature Songs in 'Just Call Out My Name'
"You've Got a Friend" is more than an anthem for Carole King—who wrote, recorded and won a Song of the Year Grammy for it—and James Taylor, for whom it was a No. 1 hit. The song also defines their longtime mutual admiration and support for each other, manifested in 2010's Troubadour Reunion world tour, the centerpiece of director Frank Marshall's captivating concert doc.
"You and I probably just have the same musical DNA," says Taylor, who first urged King to sing her songs in public in 1969 at L.A.'s famed Troubadour club, where she played in his band. Reflecting on the arena tour, which often feels like two greatest-hits concerts on one turntable stage, King notes, "We do it for each other, but what they're seeing is us having a great time together."
Happily, we get a ringside seat as they trade off signature songs, including one uninterrupted 35-minute stretch. Other documentaries may shed more light on these artists' lives, but none will offer as much pure musical satisfaction in showing how they played.
Carole King & James Taylor: Just Call Out My Name, Documentary Premiere, Sunday, January 2, 9/8c, CNN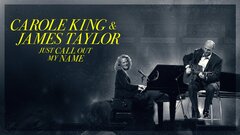 Powered by