'Homeland': Season 6 Trailer Finds Carrie in New York … And In the Middle of Chaos (As Usual)
After a couple of seasons abroad, Carrie Mathison (Claire Danes) is living in Brooklyn for Season 6 of Homeland, and, as Showtime's first teaser trailer for the season shows, international tension still swirls around her.
Season 6 takes place a few months after Carrie prevented a terrorist attack in Berlin at the end of Season 5. She's running a foundation that provides help to Muslims living in the United States, and she gets sucked back into her old spy games during the tumultuous period between a controversial presidential election and the inauguration.
RELATED: Showtime's Homeland Moving to New York for Season 6
In the trailer, the two constants in Claire's professional life: her mentor Saul Berenson (Mandy Patinkin) and his rival, Dar Adal (F. Murray Abraham). How they influence her this year is anyone's guess. Rupert Friend is set to return as Quinn, and Elizabeth Marvel is also on board.
Season 6 is still being shot in New York and is set to return on January 15.
Homeland, Season premiere, Sunday, Jan. 17, 9/8c, Showtime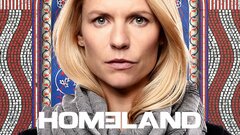 Powered by