'American Housewife' Preview: An Art Project Goes Awry (VIDEO)
Self-image is a tough thing to teach your impressionable kids, but imagine trying to deal with it yourself, as Katie Otto (Katy Mixon) does this week in ABC's freshman sitcom American Housewife.
The series, created by Sarah Dunn, stars Mixon and Diedrich Bader as a married couple raising their family in Westport, Connecticut, where Katie struggles to fit in with the women in the town who tend to be size 0. As if that wasn't enough of a daily struggle, Katie also works hard to keeps her children from taking on too many of the Westport shallow traits. The series also stars Meg Donnelly, Daniel DiMaggio, Julia Butters, Ali Wong and Carly Hughes.
RELATED: Katy Mixon as a 'Firecracker' Mom in American Housewife.
In this week's episode, Katie finds herself on shaky ground when her youngest daughter, Anna-Kat (Butters), draws a family portrait for an art show but, as you'll see in the following clip, Katie isn't too pleased with how her daughter sees her and offers some creative input.
American Housewife, Tuesdays, 8:30/7:30, ABC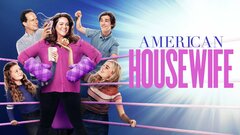 Powered by