'The Real O'Neals' Noah Galvin Previews Kenny's Turn as Beyoncé
It's Halloween time on The Real O'Neals, and Kenny (Noah Galvin) has big plans: dress up as Beyoncé and go celebrate the holiday.
Kenny's excitement is initially showcased in a football-themed fantasy dance sequence. "We had four cameras, we had a huge space, we filmed it on a giant green screen," Galvin says. "And there were like 20 other dancers besides myself. And it was terrifying! You have all of these dancers around you, and I'm a dancer—I come from musical theater, I grew up dancing; I consider myself a dancer—but it's still terrifying when you have these 20 professional dancers and you have to keep up with them and nail it on every single take. It's very stressful. But I think I did my job pretty well."
RELATED: ABC Debuts Tasty Real O'Neals Season 2 Key Art
Halloween allows people to wear whatever kind of costume appeals to them, but it also allows those who have to go out of their way to fit into society a day of relative freedom to be their true self. "One of my closest friends in the world is trans. She didn't start transitioning until after high school, but Halloween for her in high school was always the day she would go full-out," Galvin explains. "It was the one day she could truly be herself. I think Kenny sees Halloween that way. This is the time for Kenny to explore his gay nature and explore his feminine side. I think throughout the series there's an ebb and flow to his flamboyance. Halloween is when he doesn't have to worry about anything. He doesn't have to worry about getting weird looks from people; he wants to go to the gay area in Chicago and he just wants to celebrate and be himself and just live, honey."
Unfortunately for Kenny, his mother, Eileen (Martha Plimpton), is uncomfortable with the idea of him going out as Beyoncé, and offers him an alternative: He can have a party at their home and go as a character from Newsies. "I think deep down, she fears he will be laughed at or picked on or experience backlash from her Catholic community," Galvin explains. "So she decides to sway him with a Newsies costume—and who can resist a Newsies costume?—so Kenny completely falls in love with the Newsies costume and decides to appease his mother and give up on Beyoncé."
In order to make his party a success, Kenny recruits Stuart (Caleb Pierce). "It's really rocky," Galvin laughs. "But in order for Kenny to get the Halloween he's been dreaming of, he needs clearly gay Stuart's hand in helping make this the most gay Halloween he's ever had."
RELATED: The Real O'Neals Recruits Chef Trio for Thanksgiving Episode
Initially, Kenny's party is a success. But Eileen "freaks out and tries to de-gay the party, and he picks up on it," Galvin says. "And in retaliation, he goes upstairs, puts on his Beyoncé outfit and comes down in full glory, and blows everybody away."
But channeling Beyoncé is no easy feat. "The costume is so intense," Galvin says, who also spent more than two hours in hair and makeup. "There are so many things that come into play—my leg hair, which we couldn't trim it, because in the next episode, there were jokes about my leg hair. I'm wearing padding to give myself a lady figure, an hourglass shape. The pads had to be smoothed out by tights, and you can't just wear one pair of tights because you'll see the pads through one pair—so I had to wear six pairs of tights. I'm wearing pads, six pairs of tights, fishnets over those, and so your toes are crushed by not only the six pairs of tights, but the heels I had to wear. Honestly, being a woman is so, so painful." It's not easy being Queen B.
The Real O'Neals, Tuesdays, 9:30/8:30c, ABC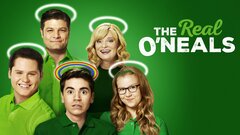 Powered by