5 Things We Learned From PaleyFest's 'Gotham' Panel
PaleyFest wrapped up a week-long television extravaganza on October 19 with Fox's wildly dark and sometimes hilarious Gotham.
The event featured a screening of next week's October 24 episode (no spoilers!) and a panel at the Paley Center for Media in New York. Moderated by TV Guide Magazine senior writer Damian Holbrook, the panel featured Ben McKenzie, Donal Logue, Michael Chiklis, Robin Lord Taylor, Erin Richards, Drew Powell, Cory Michael Smith, Chris Chalk and newcomer Benedict Samuel for a round of laughs and talk about filming Season 3, subtitled Mad City.
Here were the five most interesting tidbits we gleaned from the chat.
Hope for a Barbara-Jim Reunion
Though it would seem the flame has long-been extinguished between Barbara (Richards) and Jim (McKenzie)—at least on Jim's side—there is still the question of how Baby Batgirl comes to be. (In the comic book lore, Jim and Barbara Gordon are the parents of the future caped crusader.) Holbrook posed the question in light of Jim's darker turn, suggesting the two could make a mistake together one night. "Do you want to take that one?" Richards deflected. To which McKenzie explained, "It's been discussed. At length," he explains. "Jim seems to find himself at The Sirens," the club Barbara runs.
Chalk's Ambitions for Lucius Fox
In a particularly silly moment, Chalk stole the show with what he wants to see happen to Fox. "I study jiu jitsu," Chalk says. "I want somebody to mess with Lucius' mind and he goes bats–t crazy and he beats people up, gets beat up, and then he goes [in a deep voice], 'I'll never be violent again.'" Adding, "And, he's going to have a love affair with Barbara."
That sounds good to us!
The Court of Owls: A Common Enemy?
This secret, organized group from the DC Comics has been popping up here and there in the series, but not much has definitively been said about their true motives. They were last seen kidnapping/coercing Bruce's (David Mazouz) doppelganger into a limo. All we know is that they're super ominous.
"What's great about the concept of [The Court of Owls] is that it allows us to peel yet another layer off the onion," McKenzie explains. "There's layers, within layers, within layers of Gotham and there's always something dark and foreboding around each corner. I think the ways that we'll interact with them are to be determined, but what it may serve to do is bond our principle characters in unexpected and unlikely ways."
"Or play them against each other," Logue adds. "We're starting to veer towards the Court of Owls right now and you get the sense of, All you mice and men with your little squabbles, it doesn't matter because the master puppeteers are sitting above you pulling the strings."
Jervis Tetch + Oswald Cobblepot + Ed Nygma
Samuel, who plays Gotham's new Big Bad, Jervis Tetch, aka the Mad Hatter, had an interesting thought of a villain triple threat when an audience member asked which characters the cast would like to see cross paths. "I think the Mad Hatter would have an interesting relationship, with the way things are going now, with Penguin [Taylor] and Nygma [Smith]," Samuel says. "The potential of that trio is so fascinating to me because all three of them are such deceptive individuals." To which, McKenzie joked, "Is this a professional relationship?" Samuel gave it right back saying, "Many different hats!"
Shooting in New York
This year's PaleyFest theme was "Made in New York," so naturally, the cast was asked about bringing Gotham to life in the Big Apple. Of all the unusual places they've filmed, the audience found most interesting was where they shoot the outdoor Arkham Asylum scenes.
"The craziest place we shoot is in that old, they call it Barely Breathing, Bayley Seton this hospital in Staten Island," Logue said. "It has that haunting feeling of a mental institution. You're shooting this stuff outside and it's supposed to be Arkham, but it really is a working mental institution and there will be times when it's 2 in the morning or something and there's just the lonely silhouette of a person sitting in the window watching you, and it's heartbreaking. There's no way that we do our job and separate ourselves from the job and the city." McKenzie adds, "Gotham represents the urban decay that is all around us."
And finally, the winner of Best Quote of the Night went to Taylor: "If Gotham was on HBO, Game of Thrones would look like Mr. Rogers' Neighborhood."
Your good looking #Gotham cast has arrived at #PaleyFest @MadeinNY! pic.twitter.com/WmHANIunaj

— Gotham (@Gotham) October 20, 2016
Gotham, Mondays, 9/8c, Fox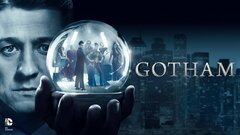 Gotham
where to stream
Powered by