Today's World Through Children's Eyes, Ultra Weird 'Smiths,' 'Good Girls' Finale, 'Good Fight' Tackles COVID
Sesame Workshop's first docuseries, Through Our Eyes, addresses topical issues including climate change and homelessness from a child's-eye view. AMC+ launches one of 2021's strangest series, a noir dramedy with music featuring puppet-ized dolls. NBC's Good Girls signs off after an unexpected cancellation. The Good Fight flashes back to COVID-19 horrors.
Through Our Eyes
A sensitive and affecting four-part docuseries from Sesame Workshop uses children's voices and perspectives to bring some of today's most pressing issues into focus. For Sesame, it's a shift from producing for children to telling stories about young people for children and adults to watch together. The 30-minute segments deal with the effect on children of incarcerated parents, on being homeless, on being uprooted and displaced by weather-related disasters caused by climate change, and on having a parent wounded during military service and relying on caregiver support. In each instance, the resilience of the younger generation is enough to give anyone hope.
Ultra City Smiths
The ultimate "what the hell is this" experience, Ultra City Smiths is what it might feel like watching Chinatown re-enacted by LEGO characters on acid. Patriot's Steve Conrad collaborates with the studio behind Robot Chicken, which helps explain the Adult Swim vibe in this bizarre spin on film noir using baby-faced dolls as stop-motion-animated puppets. Westworld's Jimmi Simpson leads the voice cast as insecure rookie detective David Mills, who arrives in Ultra City—which gravel-voiced narrator Tom Waits repeatedly reminds us is where "no one's dreams come true"—just in time for leading citizen and "last bright hope" mayoral candidate Carpenter K. Smith (Kurtwood Smith) to go missing. The mystery deepens quickly to involve a bunch of other Smiths in an urban hellhole with street hustlers, adolescent gangs in Nixon masks, a giant lady wrestler with Bebe Neuwirth's incongruous voice and occasional song-and-dance numbers out of nowhere. I'm not sure if I was charmed or creeped out. Much like the channel's Kevin Can F**k Himself, it's an intriguing premise that I can't imagine very many actually enjoying watching. The first two of six episodes drop this week, with AMC on tap to air it this fall. We'll see.
Good Girls
It wasn't supposed to end like this. The dark comedy comes to a premature close, with the fourth and final season ending in back-to-back episodes during which the moms-turned-counterfeiters are forced into pulling off a heist by none other than the Secret Service. In the aftermath, Beth (Christina Hendricks) realizes their myriad problems may never go away. Given how things turned out, that's a pretty safe bet.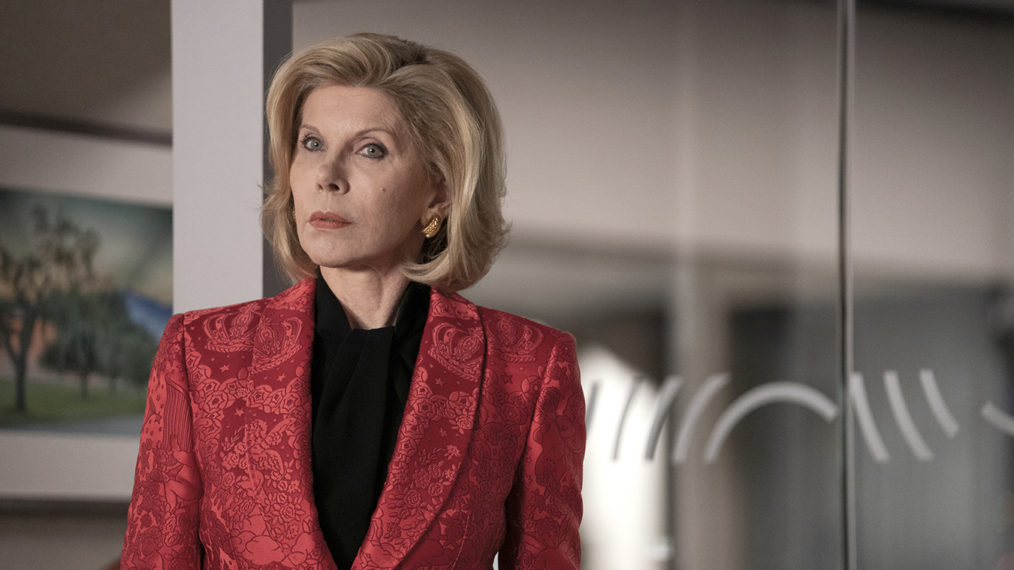 The Good Fight
It's a blast from TV legal-drama history's past when L.A. Law's Jill Eikenberry guests in a sadly topical episode dealing with the ongoing fallout from COVID-19. The firm is representing drug kingpin Oscar Rivi (Tony Plana), who's suing for negligence in the COVID death of his daughter at the same hospital where investigator Jay (Nyambi Nyanbi) was treated. The case triggers harrowing flashbacks for Jay, who vaguely recalls being abandoned with other patients (including guest star Ben Vereen) in "the pit," which is as dehumanizing as it sounds. In other legal news, Diane (Christine Baranski) rallies to save her husband Kurt (Gary Cole) when his acquaintances involved in the Jan. 6 uprising try to throw him under the proverbial bus.
Inside Thursday TV:
Olympic Preview: In more matches before the Opening Ceremonies on Friday, men's soccer and softball are among the main events airing on USA, the Olympic Channel and NBCSN. (Check nbcolympics.com/schedule for more details.) And Lester Holt begins anchoring the NBC Nightly News (check local listings) from NBC's Olympic Headquarters overlooking Tokyo Bay and Rainbow Bridge. He'll be profiling athletes as well as covering news including the impact of the latest COVID surge on the games.
grown-ish (8/7c, Freeform): Following their Mexico sojourn, Zoey (Yara Shahidi) and the gang finally return to Cal U after the pandemic stalls their senior year. But to graduate, Zoey's going to need to land an internship.
CMT Campfire Sessions (9/8c, CMT): In the season finale, Trisha Yearwood and her band perform an intimate jam session where they strip down many of her hits as well as her latest collaboration, "Ran Into You."
Alone (9:30/8:30c, History): If only they were truly alone. In a tense episode, one of the survivalists encounters a grizzly who gets within bear-spray reach.
The North Water (streaming on AMC+): "The further we sail, the more dangers we face," growls the dastardly Henry Drax (Colin Farrell) in the second chapter of this intense Arctic adventure. (See the full review.) Dr. Sumner (Jack O'Connell) is nursed back to health after a near-death experience, only to be plunged into an incident of shipboard abuse and murder where his antagonist Drax seems the most likely suspect.
Ghost Adventures (streaming on discovery+): The ghost-hunting gang opens a new season by traveling to Utah's Great Salt Lake to investigate the curse surrounding The Great Saltair music venue.
Why Women Kill (streaming on Paramount+): The ever-more-conniving Alma (Allison Tolman) runs for president of the hoity-toity garden club in the penultimate episode of the comic melodrama's second season. But how will nemesis Rita's (Lana Parilla) release from prison affect the lives of everyone? Expect the body count to quickly rise. Comedy scribe Joe Keenan (Frasier) wrote the episode, and thirtysomething's Melanie Mayron directed.
Cousins (streaming on Netflix): A box-office hit in its native New Zealand, and well-reviewed when released in the U.S. earlier this month, the film follows the disparate fates of three female Maori cousins in the 1940s and '50s.