Is 'Arrow's Oliver in #Olicity Denial?
Getting his crime-fighting game back on point is gonna be harder than Oliver Queen (Stephen Amell) realized now that he's both mayor of Star City and down about half a team. But according to executive producer Marc Guggenheim, it's also gonna be entertaining as hell.
"I think the fun has been asking ourselves how we can sort of rebuild the show from the ground up again," says Guggenheim, who is doing some renovating over on Legends of Tomorrow, too. "Oliver lost his team at the end of Season 4 and by doing that, we created an opportunity to redo things."
RELATED: Arrow: Chad Coleman on Being Oliver's New Foe and "A Capital Badass"
Part of that entails the development of a new team, which begins to take shape Wednesday night. In addition to "properly meeting" Rick Gonzalez's Wild Dog, the vigilante teased in last week's season opener, Guggenheim previews that we will also see the return of Madison McLaughlin's Artemis from last season, as well as Rory Regan (Joe Dinicol), better known as the Batman comics character Ragman.
"They make for a very nice combo platter, especially when you add in Curtis Holt," he says of the newbies. Although they may have second thoughts about the whole do-gooding thing after they get a load of their leader. "We are setting up the idea that Oliver is not just going to recruit them, he's also going to train them," continues Guggenheim with a laugh. "That excited us because this is an opportunity for Oliver to be a douche…which is something we enjoy writing occasionally."
As if that isn't enough to keep our hero busy, there is also the matter of his still-in-shambles love life. Now that we know Felicity (Emily Bett Rickards) is involved with Det. Billy Malone (Tyler Ritter), isn't about time Oliver caught on to the sitch, as well? One would think a superhero would be more on the ball about the ex-fiance he works with every day.
RELATED: Stephen Amell: Arrow Is "More Grounded" in Season 5
"That's a good question!" agrees Guggenheim. "It speaks to the fact that Oliver has had a lot on his plate lately and…also, I think Oliver is trying to adopt a more hopeful tone, be more optimistic. And in that optimism, he's hoping that he and Felicity will get back together. So perhaps there is a little bit of denial at play that he hasn't clocked the new spring in Felicity's step."
This being Arrow, Guggenheim points out, "it is just a matter of time" before Oliver puts two and two together. And when he does, this Green Arrow may not be so green with envy. "I don't think Oliver reacts the way most people would expect him to react."
Arrow airs Wednesdays at 8/7c on The CW.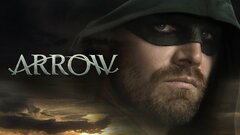 Arrow
where to stream
Powered by