FX Debuts Sneak Peek of X-Men Drama 'Legion'
The stylish new X-Men series Legion made its mark on New York Comic Con Sunday afternoon as FX debuted an extended sneak peek of the series pilot. Crossing superhuman angst with series creator Noah Hawley's (Fargo) sharp instincts for creating compellingly quirky dramas and a colorful aesthetic Hawley claims he "wanted to feel like a 1964 Terence Stamp movie," Legion is primed to stand out from the increasingly crowded field of comic book-inspired TV when it premieres in 2017.
Legion's pilot opens with a montage of scenes that take viewers from lead character David Haller's (Downton Abbey's Dan Stevens) infancy through a troubled childhood filled with episodes of uncontrollable outbursts of psychic powers, all the way to a diagnosis of paranoid schizophrenia and institutionalization at Clockworks Psychiatric Hospital. Inside the institution, David—who, as Marvel Comics fans know, is the son of Charles Xavier, aka Professor X—gets a visit from his sister (Katie Aselton), before going back to spend some time with friend and fellow patient Lenny Busker (Aubrey Plaza), and strike up a strictly non-physical romantic relationship with new arrival Syd Barrett (Fargo's Rachel Keller). Hawley confirmed that her name was a nod to Pink Floyd, and also mentioned that Fargo composer Jeff Russo created the Legion soundtrack with The Dark Side of the Moon in mind.
RELATED: Marvel and Fargo Producers Team Up for Legion
A shift in the story then jumps David to a later date, when he's in a room being questioned about the circumstances of a woman's death. As his interrogator leaves the room, it becomes clear that David is under the watch of no ordinary law enforcement agency, but a heavily armed paramilitary group with an interest in monitoring powerful mutants.
Putting the show's appeal into terms only X-Men fans could appreciate, Stevens called the project an "Omega-level" acting opportunity with "no cape" and "no dumb horns" to wear (a jab a Tom Hiddleston's Loki), and Hawley promised a focus on character-driven stories. "It isn't racing toward a battle with an enemy as much as it is dealing with the enemy within," Hawley said.
Also in attendance at the panel were Plaza, who seemed born to play wisecracking audiophile mental patient Lenny; Aselton; Keller; Amber Midthunder (Kerry Loudemilk); Bill Irwin (Cary Loudemilk); Jeremie Harris (Ptonomy Wallace); executive producer Lauren Shuler Donner; and Marvel Television executive vice president Jeph Loeb.
Harris teased that his character, Ptonomy Wallace, will be a member of a group outside of the agency holding David in the pilot, and he will be able to help people access their memories, a skill which could come in handy on a show that follows such an unreliable narrator.
"We're in the subjective reality of David," Hawley said. "[We see] this world through multiple layers of confusion that Dan's character is feeling."
RELATED: More Coverage From New York Comic Con
As for potential crossovers with Fox's X-Men movie franchise, Hawley, Donner and Loeb added some layers of confusion of their own. The three claimed that no direct crossovers are currently planned, but that the door is certainly open for collaboration. "The fact that I'm sitting here is an indication that bridges are being made," Loeb said.
Whether or not Patrick Stewart or James McAvoy can eventually make their way onto Legion, David's lineage as Professor X's son will definitely come up in the show. "[We will stay] true to the character's origin," Hawley said, adding, "I don't think you can really tell the story without that element."
Hawley said he's taking the same approach with Legion as he did with Fargo in developing a standalone product within an existing franchise. "We've got to earn the right to be part of that universe," Hawley said. "There are a lot of corporations with a lot of agendas, but all we can do is make the best show possible."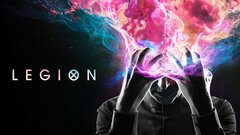 Legion
where to stream
Powered by