'Zoey's Extraordinary Playlist': 10 Questions That Will Likely Never Be Answered
The Zoey's Extraordinary Playlist finale might have given us closure in one regard (the love triangle seems to have been put to bed definitively) but it also ended on quite the cliffhanger, one that left both characters involved as shocked as we were watching it. And unfortunately, the series was not only canceled by NBC, but it also has yet to be picked up anywhere else. (The options on the cast expired on July 1, though Lionsgate Television hasn't given up on finding a new home.)
After Zoey (Jane Levy) spent two seasons being able to hear people's inner thoughts via heart songs, her ex-boyfriend Max (Skylar Astin) somehow gained her power just as they got back together. (The fact that she had that window into his head had been a problem for them.) The two were left standing, staring at each other, after she sang "I Melt With You."
See Also
Executive producer Austin Winsberg also discusses where Season 2 left Simon, as well as Mo's relationship with Perry.
Meanwhile, Simon (John Clarence Stewart) — following his and Zoey's mature breakup — got a new job at SPRQ Point, Mo (Alex Newell) and Perry (David St. Louis) were back together, and Maggie (Mary Steenburgen) decided it's time to start dating again after losing Mitch (Peter Gallagher) in Season 1.
Until we hear otherwise, we can only assume that we will not be getting a Zoey's Extraordinary Playlist Season 3, so scroll down to see the questions we'll probably never get answered.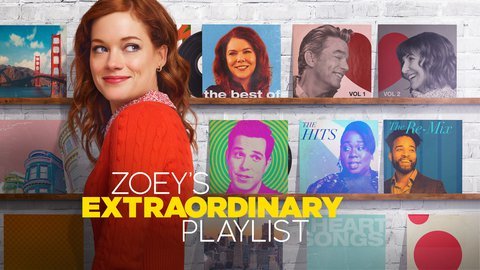 Powered by