'A.P. Bio,' 'Veronica Mars' & More Canceled Shows That Got a Second Chance
Ratings aren't everything when it comes to a TV show's renewal. If a show is canceled, a vocal fan base has, in the past, been able to convince other networks to pick up their favorite program. In some cases, series develop even larger followings long after their time on air, leading to a revival from beyond the grave.
With a new season of A.P Bio now on Peacock, as well as the continued success of American Idol and Conan, we're taking a look at eight shows that found success twice over.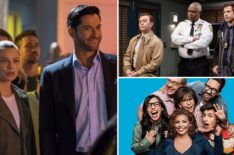 See Also
From Netflix resurrections to comedies with new homes, some saved shows have done better than others.
Scroll down to see a list of series, past and present, that beat cancellation.