Rotten Tomatoes' Certified Fresh TV for 2020 (PHOTOS)
The growing tsunami of television content has never been more welcome than this year as COVID kept most of us confined in our homes. And the good news is, so much of it is actually worth watching. Each year, review-aggregation website Rotten Tomatoes puts out its Certified Fresh list of the best 2020 TV shows to show just how some of those shows were received by critics — a helpful list for those constantly on the search (like us) for content.
We look at those "Certified Fresh" at 100%, which means all the aggregated critics have given them the highest rating possible. From popular comedies like Schitt's Creek and What We Do in the Shadows to Netflix originals like Feel Good and a Parks and Recreation special, some programming stood out from the rest.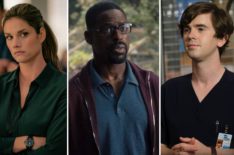 See Also
'This Is Us,' 'The Good Doctor,' 'Yellowstone,' and more favorites remain strong in 2020.
Scroll down to see the shows (and seasons) that earned that 100% fresh rating (in alphabetical order by show title).