See Jill Wagner & Victor Webster in Hallmark's 'Hearts of Winter' (PHOTOS)
Jill Wagner and Victor Webster star in Hearts of Winter, a new original movie premiering Saturday, January 25 on Hallmark Channel as part of the network's annual Winterfest programming event.
Designer Bethany (Wagner) takes her career to the next level when she appears on TV to promote her MAP method: bringing Meaning, Abundance and Peace to one's home. Bethany also announces her home makeover contest, getting the attention of a little girl, who submits a letter about her dad Grant (Webster) that touches her heart. She selects the child's home, unaware her dad has no clue of the contest until Bethany and her camera crew arrive.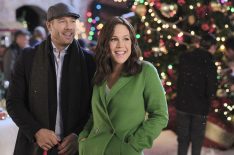 See Also
On set with stars Erin Krakow, Kimberley Sustad, Jill Wagner, and more, who share what they love about Hallmark movies.
Walking into an uncomfortable situation, she realizes Grant is attached to his house full of memories of his late wife and doesn't want a makeover. But encouraged by his daughter's enthusiasm, Grant slowly warms to the idea, and even begins to enjoy the process, not to mention Bethany.
Even TV viewers see their chemistry and want more. However, Bethany is unsure a career can mix with a relationship, or if Grant is ready to open his heart again. Bethany and Grant each must let go of something to make any relationship work. She must let go of the idea that her career will stall if she lets love into her life, and he must release the notion that his heart isn't big enough for both memories of his wife, and a future with someone else.
Click through the gallery above and warm yourself with Hearts of Winter.
Hearts of Winter, Premiere, Saturday, January 25, 9/8c, Hallmark Channel