'Friends' Reunion as Courteney Cox Receives Star on Hollywood Walk of Fame (PHOTOS)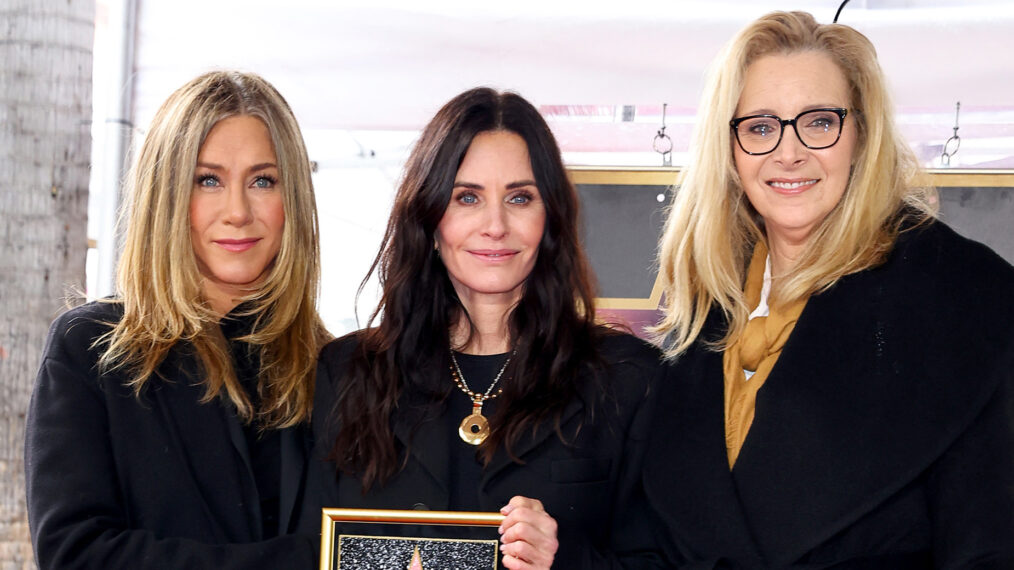 Courteney Cox had her friends by her side on Monday, February 27, when she received her star on the Hollywood Walk of Fame.
The Scream actress was joined by her Friends co-stars Jennifer Aniston and Lisa Kudrow, as well as her boyfriend Johnny McDaid, daughter Coco Arquette, and longtime friend Laura Dern. The event saw Cox fighting back the tears as she talked about never giving up on her dreams despite early setbacks in her career.
Cox recalled how she was down to her last few dollars before she got her break and remembered her father calling her and encouraging her to come back home to Alabama to work in sales.
"The next day I got Family Ties," she said (via The Hollywood Reporter). "This will make me cry because I do love my dad, but I just want to say that I know he's really proud of me, and it does look like I'm here to stay."
Speaking at the ceremony, Kudrow told Cox, "We just want to say that we're deeply, deeply proud to know you. You are the definition of a truly beautiful, talented and, what's most important, a truly good and decent human being. Thank you for enriching our lives personally."
Aniston added, "Watching you onscreen and just in life in general, you're one of the funniest human beings on the planet Earth. Nothing makes me happier than a Courteney joke and always making us smile, and thank you for enriching our lives with your work. We are so proud of you. We love you. You're sisters from another mister, and we love you."
Dern, who revealed she first met Cox on a plane where they became instant "sisters," said, "If you're lucky enough to know her, you learn that she can't help herself. She has to be honest about who she is, about how she sees the world and, frankly, about what she sees in us. It's not always easy but she makes you better by knowing her, by working with her and if you're really fortunate, you get to love her."
Check out some of the best photos from the event below.