Best Lines of the Week (March 6 – 12): 'We Were Star-Crossed Haters'
This week's television was full of drama, surprise and humor. The Bachelor and The Outsider finales brought shocking twists, while This Is Us headed to New York and Hillary Clinton took us down memory lane.
Brooklyn Nine-Nine, Curb Your Enthusiasm and SNL gave us our weekly dose of laughs, and heartwarming moments were shared between characters on The Good Doctorand Everything's Gonna Be Okay.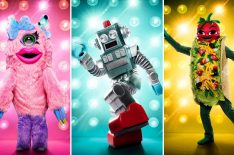 See Also
Find out who has been unmasked this season and sound off with your best predictions for those left.
Check out the gallery above to see this week's best TV lines!