'Penguin Town' Explores the Unique Life of African Penguins in Simon's Town (VIDEO)
"There are a lot of movies about penguins, then there's these birds," Penguin Town narrator Patton Oswalt says in the opening moments of the docuseries trailer.
The birds he's referring to are African penguins who are at the center of this eight half-hour episode series. Forget what you know of Antarctica's penguins because there's a posse of tuxedoed birds living it up in the warm weather of Simon's Town, Africa.
See Also
'Elite,' 'Lupin,' and more titles arrive in time for summer.
Trading the snow for the sand sun-drenched beaches south of Cape Town, African penguins are stirring things up amid the hustle and bustle of everyday life for the humans of this idyllic landscape. These rule-breakers have had to adapt to the heat, can travel long distances, and are causing traffic jams in this tropical paradise.
Follow the birds as they take on a hefty mission to find a mate, make babies, and keep from going extinct. Penguin Town uncovers the bonds between the African penguins, including the troublemakers known as the "Car Park Gang" and sweet newlyweds Mr. and Mrs. C.
Tune in for hilarious shenanigans featuring adorable penguins in the series from Red Rock Films and catch the exciting new trailer, below, which sees the birds mingle with society in funny and unexpected ways.
Penguin Town, Series Premiere, Wednesday, June 16, Netflix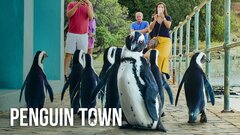 Powered by