'Trying' Trailer Teases Nikki & Jason's Adoption Journey for Season 2 (VIDEO)
Adoption isn't a walk in the park, but for London-based couple Nikki (Esther Smith) and Jason (Rafe Spall) humor and laughter are a must when it comes to their journey in Apple TV+'s Trying.
Season 2 is set to arrive Friday, May 21 and will continue to follow Nikki and Jason as they proceed with the adoption process. In a newly-released trailer for the critically-acclaimed series, new challenges arise for the duo as they receive support from their social worker Penny (Imelda Staunton).
See Also
In Season 2, Nikki and Jason are on a rocky road to adopting a child.
Following their Season 1 finale adoption approval, the new eight-episode season will track Nikki and Jason's search for a child because finding a match is an even bigger battle than earning the approval. As they watch other parents manage to find matches, Nikki and Jason feel a little left behind, but Penny is determined to keep their hope alive.
When Nikki meets a little girl named Princess at one of the adoption events, she feels in heart that this is the kid for her and Jason, but will the obstacles be too big to overcome? The trailer teases some of those obstacles as well as some lighter moments for the couple.
When Jason asks Nikki if she's set on searching for a daughter, she makes a valid point when she responds by saying, "Girls tell you what they're feeling. They ask for help." But Jason isn't as convinced. "They just sit on the sofa hugging a cushion, sighing louder and louder until someone asks what's wrong," he says of girls. "Boys are uncomplicated."
Will this come into play when they're faced with finding a child? Stay tuned. As for the rest of the Season, the stars returning alongside Spall, Smith, and Staunton include Ophelia Lovibond, Oliver Chris, Sian Brooke, Darren Boyd, and Robyn Cara.
Trying has already been renewed for Season 3 at Apple TV+. Check out the trailer below, and don't miss Season 2 which will launch two episodes on the premiere date followed by one new episode weekly every Friday.
Trying, Season 2 Premiere, Friday, May 21, Apple TV+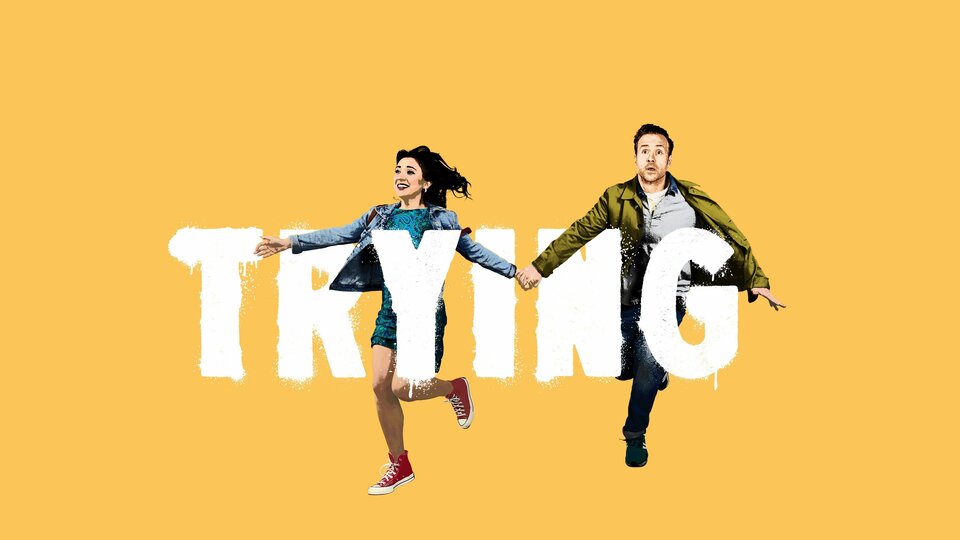 Trying
where to stream
Powered by